Sterling Clack Robertson was empresario of Robertson's colony, a huge tract of land covering much of central Texas. As one member of a group of 70 stockholders calling themselves the Texas Association granted permission to bring in up to 800 families, he was responsible for settling over 600 families. The capital of the colony, Sarahville, was laid out at Falls on the Brazos near present-day Marlin.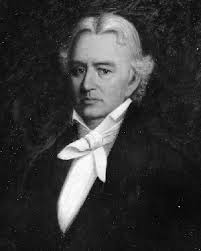 Robertson's father was a military man, and Sterling Robertson entered the military as well, serving as deputy quartermaster at the Battle of New Orleans in 1815. When supplies and medical equipment ran low after the battle, Robertson replenished them with his own funds. After the war, he returned to Tennessee and bought a plantation. He came to Texas in 1825 at the age of 40 as part of the Texas Association and returned to Tennessee and Kentucky to recruit colonists. By the spring of 1830 his enthusiasm had convinced 200 families to join him, and he signed a subcontract with the Texas Association to settle them, but the Mexican Law of April 6, 1830 closed the borders to Anglo immigrants–even those who had been given prior permission. Working with Stephen F. Austin, Robertson was able to obtain a contract in his own name four years later and served as empresario for two years.
In 1836 Sterling Robertson became captain of a company of the Texas Rangers. He was also elected as a delegate to the revolutionary convention at Washington-on-the-Brazos. His signature is on both the Texas Declaration of Independence and the Constitution of the Republic of Texas. Still a military man at heart, he was stationed at Harrisburg to guard the Texas Army's equipment during the Battle of San Jacinto. After independence was won, Sterling Robertson served as a senator in the first two congresses of the Texas Republic before retiring to his home in Robertson County to breed Arabian horses.
The plantation house of his son, Col. Elijah Sterling Clack Robertson, who served with him during the early days of the Robertson colony, still stands in Salado, Texas.