Moses Austin and his son, Stephen F. Austin, were the first Texas empresarios…but despite their shared strengths, it was the differences in the two men that make their story both great and tragic.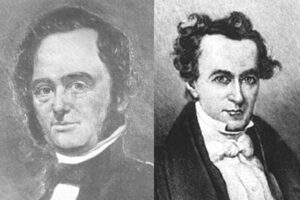 Though MOSES AUSTIN was born in 1761 (15 years before the American Revolution), he was already the 5th generation of Austins in America. He rose to prominence as the founder of the American lead industry before he was 30. He founded a town–Austinville, Virginia–in 1792 to be close to his mines. In 1798 he established another–the first Anglo-American settlement in the land beyond the Mississippi River from which he worked his lead mine near the current site of Potosi, Missouri. In 1808, he built another town–Herculaneum, Missouri, as a shipping point for his manufactured lead. He built a fortune which would be worth over $3.5 million today and, along with other prominent capitalists, chartered the Bank of St. Louis to hold his fortune, but a bank failure in 1819 put his finances and his reputation in dire straits.
Moses had transferred the Potosi mine to his oldest surviving son, Stephen Fuller, in 1816. Now, desperate to ease his debts, he set out to build yet another settlement–an American colony in Spanish Texas.  He took an aggressive risk in doing so. The United States had only recently relinquished claim to Texas as part of the Louisiana Purchase. Spain was still leery of Anglo incursion. When Austin met with the Spanish Governor of Texas in San Antonio to ask permission, Governor Antonio María Martínez turned him down brusquely. By coincidence, Moses encountered the Baron de Bastrop while in San Antonio. The two had met almost 20 years earlier in New Orleans, but recognized each other. The baron (who was not really a baron at all) returned with Moses Austin to the governor's office and persuaded him to grant permission.  Within 3 days, Governor Martínez had signed and forwarded the necessary papers and Moses Austin left for home.
His trip back to Missouri was cold and wet. Moses developed pneumonia and was barely able to survive by eating roots and berries. He was very ill by the time he arrived home, but learning that he had been granted permission to found the Austin colony, he worked feverishly to prepare his "Texas Venture." The effort drained what remained of his strength, and Moses Austin died barely two months later on June 10, 1821. As sad as was this turn of events, it was made sadder still by Moses' deathbed request. In great distress and insisting that he knew he was about to die, he called for his wife and begged her to tell his son Stephen that it was his dying father's wish that he should take his place.
STEPHEN FULLER AUSTIN was born in Austinville, Virginia in 1793 and moved with his father's business from mining camp to mining camp before being sent away to school in Connecticut at the age of 10. After completing his university education in 1810 (at the age of 17), he returned to manage his father's general store in Potosi and was given management of his father's lead business six years later.
Stephen had his own interests. He served the public as an officer in the militia and was a member of the Missouri territorial legislature for several years. With his father he was influential in obtaining the charter for the Bank of St. Louis, but when the banks failed in 1819 Stephen, who was then about 26, set his sights on opportunities in Arkansas. He began as a land agent and merchant, but within the year the Arkansas territorial governor appointed him circuit judge. He held the office only briefly–not because he did not take to law, apparently, but because he enjoyed it so much. He made arrangements to study law in New Orleans at about the time his father set out on the Texas venture that cost him his life.
Stephen was not at all enthusiastic about his father's scheme; nevertheless, he borrowed money to fund his father's enterprise from a friend in Louisiana and was waiting to meet him in Natchitoches when he learned of Moses' death…and of his dying request. To honor his father, Stephen met with Governor Martínez to secure permission to carry on in his father's name. The rest is, as they say, history, and you can read about it here–how Stephen Austin carefully selected a prime site between the Brazos and Colorado Rivers for the town of San Felipe, how he shepherded the first 300 Anglo families to Texas, and how he poured his life into wise and sacrificial leadership and became the much loved Father of Texas.
Reading between the lines, I have always pictured Moses Austin as a powerful but somewhat self-centered man. He charged ahead in pursuit of success, often without thinking of what his risks would mean to others. When he chose to travel to Texas on horseback in the wintertime, he did not even seem to consider the risks to his health, let alone the fact that he was leaving his family alone at Christmas. In debt and perhaps unable to borrow money on his own, did he consider the risk he asked his son to take in borrowing the money for him? Did he consider his young son's dreams of law school when he prevailed upon him to come to Texas? And when he pulled his wife close to gasp out his dying request, did he even consider that fulfilling it would cost his son everything he had wanted for his own life?
Though I greatly admire Stephen F. Austin, I must wonder why he was unable to stand for his own goals and speak from his own heart. Yes, it is admirable that he honored his father, but he became so enmeshed in building a future for the colonists in his care that he took no time to build a future for himself. Stephen F. Austin never married. He had no sons or daughters to whom he could pass his land and legacy. His health was destroyed in a Mexican prison where he was thrown for daring to petition the Mexican dictator, Santa Anna, for fairness for his people.
Moses and Stephen F. Austin were great men who left a greater legacy, but in the end I am not sure either was wise.
What do you think?