November 22, 1963 President John F. Kennedy was assassinated in Dallas, Texas.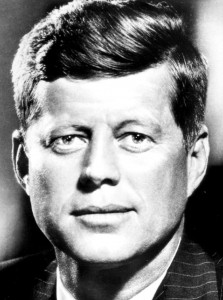 The president was riding in an open limousine with First Lady Jacqueline Kennedy and Texas Governor and Mrs. John Connally. Crowds cheered as their motorcade passed through Dealy Plaza in downtown Dallas, and Mrs. Connally turned to remark, "Mr. President, you can't say Dallas doesn't love you!" Seconds later shots rang out. Both Connally and President Kennedy were hit.
President Kennedy was pronounced dead at 1:00 pm at Parkland Hospital.
Vice President Lyndon Baines Johnson, a Texan, was sworn in as president later that afternoon in Washington D.C.