Last month I did a series of posts on Gonzales, Texas–the capitol of Green DeWitt's Colony. Though Gonzales was and still is a small town, it played many major roles in the Texas Revolution. (I hope you and your family will take the opportunity to visit Gonzales for a very special field trip sponsored by Texas: The Beginning.)
Green DeWitt was an empresario–a land agent or real estate contractor under the Mexican governments colonization system. The word sounds like our word "emperor", and though the empresarios were not rulers of their contracted kingdoms, the title must have sounded very grand to their ears. Perhaps that was one of the factors that inspired these men to risk all for the opportunity to make their fortunes in Texas.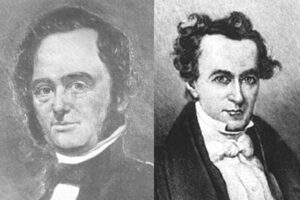 Few succeeded in making their fortune. Some lost their lives. But all made a name for themselves:
Moses & Stephen F. Austin
Samuel May Williams
Green DeWitt
Martín De León
Haden Edwards
Sterling C. Robertson
James Power
James Hewetson
John McMullen
James McGloin
Arthur G. Wavell
Frost Thorn
John G. Purnell & Benjamin Drake Lovell
Benjamin R. Milam
Arthur G. Wavell
Stephen J. Wilson
John L. Woodbury & Joseph Vehlein
David G. Burnet
John Cameron
Richard Exeter
Lorenzo de Zavala
Juan Dominguez
Juan Antonio Padilla & Thomas J. Chambers
Vicente Filisola
J. C. Beales & José Manuel Royuela
Notice that there are Anglo names as well as Hispanic names. Often the two cultures worked in partnership. A rich blend of cultures has always been a part of our Texas heritage.
Over the next few weeks I'll introduce you to some of these brave adventurers, the hopes that inspired them, and their lasting contributions to Texas.