This post is Texas history-related only in a very round-about way, but I'm excited, so I hope you'll bear with me. 🙂
At 3:00 pm (Central) today, I am giving a FREE WEBINAR on learning styles as part of an online Special Needs Conference sponsored by the Home Education Council of America (HECOA). You can find them online at www.HECOA.com, or click here to go straight to the Conference.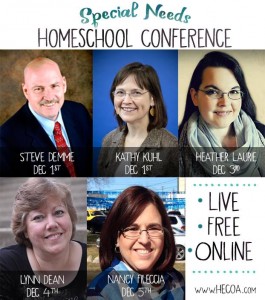 The presentation explains many of the education theories I used in designing Discover Texas–theories I explain more fully in my book How to Teach the Way Your Child Learns–but today I'll make the slide set from the presentation available to anyone who tunes in as well as an assessment sheet you can use to help discern your child's learning style.
I'm excited about this presentation today because I truly believe that any child can learn.
I'm excited because this is my first webinar and my first cooperation with HECOA, a group I learned about fairly recently, but y'all they're doing great things! You know how psyched we get at homeschool conferences with all the speakers and interaction time? But to get there you have to register in advance and often have to drive long distances, figure out what to do with the kiddos, and then (not being omnipresent) you can only attend one presentation at a time. The Home Education Council of America is trying very hard to overcome those barriers. A free basic membership gives you access to all live sessions and many limited-time replays. A very reasonably-priced upgrade membership gives you access to ALL recorded sessions for a full year…and they host THREE online conferences each year!
I'm also excited because today I'm soft-launching a second website…Hands-On Homeschool Resources. Here you'll find blog articles–Monday Motivators and Friday Finales–to encourage you with the hows and whys of hands-on interactive learning. Think of it as an online "phone booth" where you can change into your SuperMom cape and vanquish the kryptonite of doing-school-at-home. It's also a place where I can feature teaching resources–some I've designed and some by others–that aren't specifically related to Texas history but which use some of the same techniques customers have loved about Discover Texas. The site will be growing as we build and polish it for the official launch, but if you'd like to get in on the ground floor, so to speak, I have some free gifts for you when you subscribe. Pop on over, please! 🙂