Author's note: Wednesday was the day Texas State Sales Taxes are due. Since I'm a "one woman show", this post is unfortunately a day late…and much more than a dollar short! Oh, well. I'm trying to see paying taxes as one more way I can serve the great state of Texas. 😉
To read many history books, you might think that history was made only by men. There are several possible reasons for that. For one thing occupations in the military, business, and politics used to be off-limits to women. Some cultures believed that the name of a "proper lady" should only appear in public on the occasions of her birth, her marriage, her death, and possibly at the birth of her children, and most women raised in such cultures were just fine with this. Another reason might be that many non-fiction writers and historians used to be men, so perhaps it is natural that they were most aware of the doings of other men. (That's why I love it that one of Texas' primary historians, Julia Lee Sinks, was a woman.) Finally it might be that we tend to think that history is made by "daring doers doing derring-do", which causes us to overlook the more cultural contributions of others who are not so much in the limelight.
January 19th marks the birthday of two Texas women whose very different contributions are worthy of note.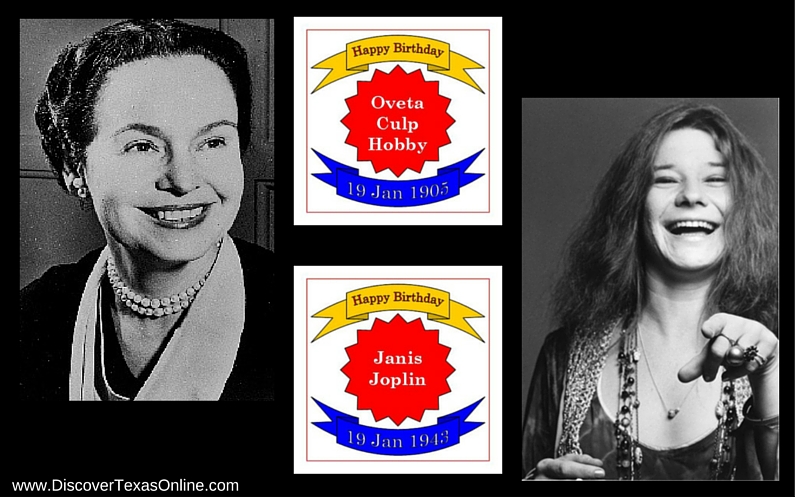 Oveta Culp Hobby was born in 1905–in the days when women were expected to be demure and remain at home. Raised in Killeen, she attended Mary Hardin Baylor College for Women in nearby Belton and went on to study law at South Texas College of Law and Commerce. At the age of 21 she became parliamentarian for the Texas House of Representatives and Assistant City Attorney for the city of Houston. Quite the up-and-coming intellectual career woman!
At 26 she married widowed former Texas Governor William P. Hobby, who was more than twice her age.  He was by then the publisher of the Houston Post, and she assisted him as editor until 1941. Then during World War II Mrs. Hobby went to Washington, D.C. where she helped to form and direct the Women's Army Auxiliary Corps. This was important work because most of the country's able-bodied men were needed for fighting. The Women's Army Auxiliary Corp (which became the Women's Army Corps, or WACs) put over 150,000 American women to work in support positions. This was the first time women served in the United States Army other than as nurses, and Oveta Culp Hobby was their Colonel. For much of her tireless work in Washington she agreed to a salary of just $1/year. In gratitude for her contribution, she received a Distinguished Service Medal–the first woman to receive the award.
When the war ended, Mrs. Hobby returned to Houston and the Houston Post, but in 1953 President Dwight D. Eisenhower appointed her to head the Federal Security Agency, then elevated her to a cabinet position as Secretary of the Department of Health, Education, and Welfare which became the Department of Health and Human Services. She resigned in 1955 to return to Houston and care for her ailing husband, but not before approving Jonas Salk's polio vaccine. This may be her most notable accomplishment as a cabinet official.
On a personal note, I can remember going with my parents to a local school gymnasium where children were lined up to receive the vaccine. Each of us was given a sugar cube with a little pink drop of the life-saving serum on it. I remember my mother's tears of relief, as many of the school children in her own class had suffered from the disease.
President Eisenhower urged Oveta Hobby to run for president in the 1960 elections, but she declined. Her husband's health may have affected this decision. In those days a career woman was often torn between the demands of work and the needs of those at home, yet Oveta Culp Hobby managed to raise a son and daughter while excelling in her career. It is also interesting that though Oveta served a Republican president, her husband and children were strong advocates of the Democratic party. She seems to have been a woman skilled in striking difficult balances.
Oveta remained active in political and civic causes all of her life and was rewarded with honorary doctorates from more than 17 American universities. The United States Post Office issued a commemorative stamp in her honor in 2011.
Janis Joplin was an entirely different type of woman. Born in Port Arthur in 1943, she shot to stardom as a psychadelic/acid rock singer and song writer. She appeared at Woodstock. Rock and roll's first female superstar, her unique, gritty blend of rock, blues, and soul was earning her six figures in her twenties…but her rebellious nature led her to get mixed up with drugs and alcohol. Sadly, Janis died of an accidental overdose at the age of 27.