Everyone has a birthday, but what do you do if no one remembers what day you were born? That was the case with Jules Bledsoe. All we have is a year: 1897…or 1898…or maybe 1899.
Jules' parents split up in 1899, and his mother took him with her to live with the Cobb family. I grew up in his hometown, Waco, and local tradition has it that it was his grandmother who took him to church with her, and that's where little Jules learned to sing…and he sang WELL! When he finished high school in 1914, graduating at the top of his class, he went on to earn a bachelor's degree at Bishop College. He then attended Virginia Union College, and finally Columbia University from 1920-1924 where he studied medicine. All that time, though, he kept singing. In fact, he studied music under several classic and operatic masters of his day, leaning to sing in several languages. When Jules Bledsoe began his career in 1924, it was as a singer. He traveled the United States and Europe singing and acting. His versatility and broad vocal range made him very popular with music lovers of his day. His name is even mentioned in the lyrics of blues singer Billie Holiday's first hit, My Mother's Son-in-Law, when she croons, "You don't have to sing like Bledsoe. You can tell the world I said so. Can't you see you've got to be my mother's son-in-law?"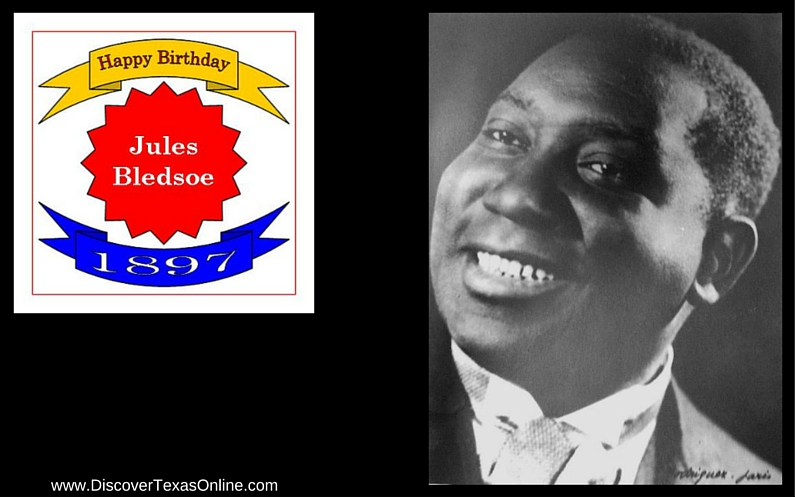 In 1927, Kern and Hammerstein cast Bledsoe in the role of Joe in their Broadway musical Show Boat. His soulful rendition of Ol' Man River was a huge hit! Jules Bledsoe became the first African-American to hold a starring role on Broadway. He recorded a reprise of his somewhat operatic rendition for the 1929 film version of Show Boat, becoming the first African-American to be prominently featured on film.
Though Jules Bledsoe often sang in the operas for which he was trained–and also wrote a full opera, Bondage, in 1939–he is most remembered for his folk songs: Ol' Man River, Swing Low, Sweet Chariot, and Dear Old Southland.
Given that recordings from these early days are extremely rare, it speaks volumes that two of Jules Bledsoe's works have survived so that we can enjoy them almost a century later. What an amazing accomplishment for a boy whose birthday wasn't even considered worth noting! That's why I decided to give him an honorary birthday celebration on January 22.