This weekend we say "Happy birthday!" to two Hall of Famers.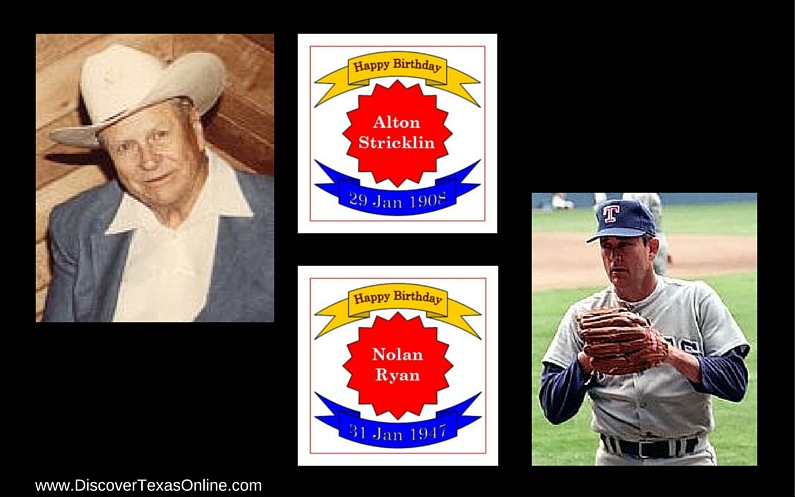 Born January 29, 1908 in Antioch Texas, jazz pianist Alton Stricklin never had a paid lesson but grew up to earn honors from the Texas WEstern Swing Hall of Fame, the Rock and Roll Hall of Fame, and the Country Music Hall of Fame. His father was a fiddler, and little Alton first tried his hands on the piano keyboard when he was just four years old. He took to music naturally, inspired by popular jazz pianist Earl "Fatha" Hines. In high school he played with a Dixieland band–the Rio Grande Serenaders. While attending junior college in Weatherford, he continued to play with the Rio Grande Serenaders and with another band who called themselves the Texans. When he transferred to Baylor University, he studied history, not music, but music helped him pay his way through the private university. At first he gave music lessons, more or less teaching his own style, but his style was frowned on by the Baylor School of Music. Needing more money to pay tuition, he began playing for dances at the Catholic Knights of Columbus Hall with a jazz band called the Unholy Three and nearly got himself kicked out of the Baptist university!
In 1930 while Stricklin was working as assistant program director at a Fort Worth radio station, a then-unknown named Bob Wills paid him a surprise visit. Wills, carrying his fiddle in a flour sack and accompanied by two raggedy-looking musicians, asked for an audition. Stricklin hired them to perform, and within two days the post office had received so much mail the station had to send a pickup truck round to get it! Ironically, Stricklin did not recognize the opportunity at that time. He left Fort Worth to teach school and become a principal, but five years later he was back in Fort Worth playing piano for a band called the Hi-Flyers when Bob Wills walked into the club. Wills offered him a job, and Stricklin joined Bob Wills and His Texas Playboys.
The rest is history.
Major League Baseball player Nolan Ryan was both January 31, 1947 in Refugio, Texas. As a kid, he loved throwing rocks at objects he set up as targets. His dad thought bseball might be a more constructive use for his love for pitching, and he was right!
His major league career lasted a record 27 years (in four decades) as he pitched for the New York Mets, the California Angels, the Houston Astros, and the Texas Rangers. He was also the CEO of the Texas Rangers before taking his current position as executive adviser to the owner of the Houston Astros. Ryan's pitches were regularly clocked at over 100 miles/hour, and he holds the all-time record for no-hitters–seven, to the nearest competitor with four.
Nolan Ryan was inducted into the Baseball Hall of Fame in 1999.