Antonio Lopez de Santa Anna was born on 21 February 1794 in Xalapa, Mexico and (in my personal opinion) that may have been the high point of his life, though he could be said to have accomplished much by worldly standards. Certainly he had great ambitions, but in his arrogance and cruelty he destroyed what might have been his own accomplishments.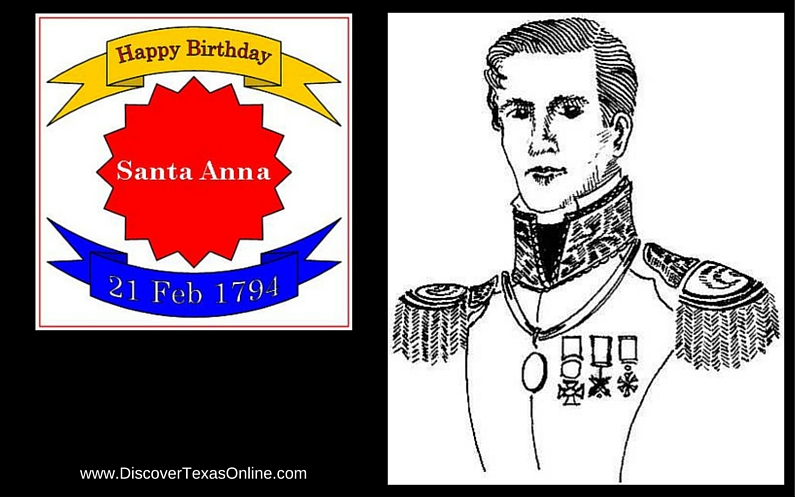 At 39, largely as a result of swapping sides and trading favors, he was elected president of Mexico, but he soon declared that the citizens who had elected him were too stupid to govern themselves. He tossed out the Mexican Constitution, declared himself dictator, and began to disarm the Mexican citizens and tax them heavily. His tyranny brought colonial unrest in Texas to the point of rebellion. He directed the Mexican Army at the Battle of the Alamo and at Goliad, where his cruelty inspired fear among his own men and galvanized the hatred of his enemies. At San Jacinto General Sam Houston took advantage of Santa Anna's over-confidence by attacking while the Mexican dictator was napping. His arrogance cost him all of Texas–roughly a third of Mexico's territory–in a battle that lasted less than 20 minutes. Rather than fight with his men, Santa Anna forced a young enlisted man to trade uniforms with him so he could try to sneak away from the field of battle. He was captured and forced to surrender. Even in defeat he arrogantly attempted to present his sword to the wounded General Houston, who instead sent an enlisted man to receive it.
There is a wise saying: Every man can teach you–some by their positive example, and others by becoming cautionary tales.
Santa Anna was, in many ways, a walking contradiction—a vain man who may be remembered for his great accomplishments as well as his colossal failures.