Albert Sydney Johnston was born February 2, 1803 in Washington, Kentucky–the youngest son of Dr. and Mrs. John Johnston. Though young Albert considered following his father's footsteps into a medical career, a future in the military seemed to be his destiny from the time he attended college with future Jefferson Davis. Indeed, both Johnston and Davis were appointed to the United States Military Academy at West Point. Jefferson Davis became President of the Confederate States of America, and Johnston rose to the rank of general in service to three different armies: the Army of the Republic of Texas, the United States Army, and the Army of the Confederacy.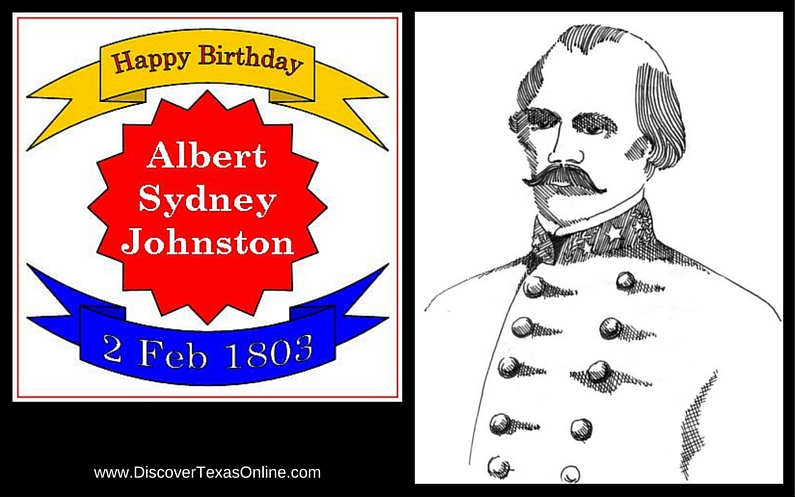 Johnston was a young officer in 1829 when he married Henrietta Preston, but he resigned his commission five years later to care for his wife, who was dying of tuberculosis. Johnson moved his wife and son to Texas where he took up farming. These were sad years as Johnston lost his bather, brother, daughter, and wife within a three year period. After his wife died in 1836, Johnson enlisted as a private in the Texas Army to help the Texians secure their independence from Mexico. After only a month he was promoted to the rank of major, serving as aide-de-camp to General Sam Houston. By August he was a colonel, and on January 31, 1837, he was promoted to brigadier general and placed in command of the Texas Army.
Within a week he was involved in a duel with Texas Brigadier General Felix Huston, who also wanted command of Texas' Army. Johnston refused to fire on Huston. Huston fired, striking Johnston in the pelvis and winning both the duel and Johnston's newly acquired position. Later, in 1838, Johnston rose again to prominence when Texas President Mirabeau B. Lamar appointed him to serve as Secretary of War–a position he held for 15 months.
At this point he returned to Kentucky for three years. He courted and married his late wife's cousin, Eliza Griffin, then brought her back to Texas to settle their growing family on a large plantation in Brazoria County–China Grove. But Albert was called away by war several more times. He served in the Mexican-American War in the 1840s, in the Utah War in the 1850s, and finally in the Civil War beginning in 1861. Confederate President Jefferson considered his old friend General Albert Sidney Johnston to be the finest general officer in the Confederacy, exceeded only by Robert E. Lee. Unfortunately, Albert Johnston was killed at the bloody Battle of Shiloh April 6, 1862. He was the highest-ranking officer to die in battle on either side. President Davis later said the loss of Johnston "was the turning point of our fate."