February 24, 1861 was the birthday of a man you've probably never heard of. He wasn't even born in Texas. Swante Magnus Swenson was born in Sweden, but he was the first Swedish immigrant to Texas, and that–along with his excellent example of living–is why we remember him.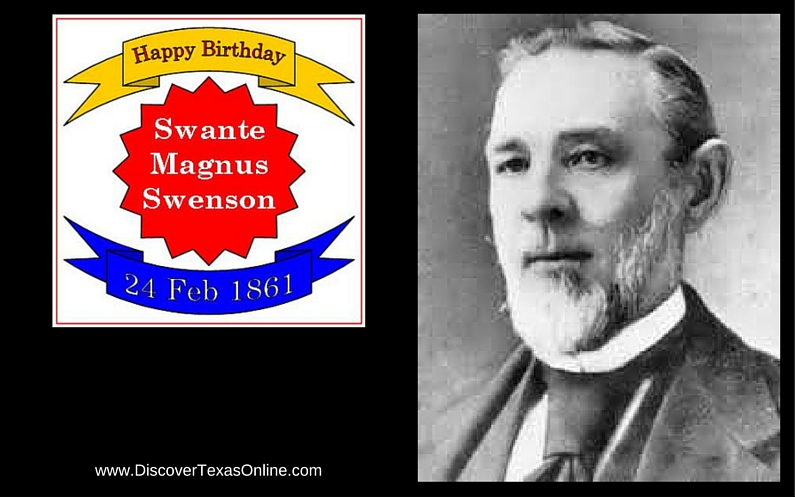 Swante was only 20 years old when he immigrated to America. The ship that brought him caught fire when it arrived in New York harbor, so the young man came ashore with nothing but the clothes on his back and a will to make something of his life. Since he'd worked as a store clerk back in Sweden, Swenson got a job as a store clerk in New York, which gave him a chance to learn English. Good with numbers, he then worked as a bookkeeper for the railroad in Maryland. Finally he saved enough to move to Texas in 1838.
Texas was a young independent nation–very attractive to young independent men. Swenson took a job peddling goods for a merchant from Columbia. One of his customers was Dr. George Long, a plantation owner near Richmond. Long's health was failing. He needed a steward to oversee his operation, and the young Swedish clerk impressed him. Swenson hired on, and when the good doctor died in 1842, his widow entrusted the running of the estate to him while she made a trip back to her home and family in Tennessee. During her absence, Swante Swenson bought land near hers with money he had saved, and when she returned, he married Dr. Long's widow, Jeanette. To help him work his plantations, Swenson offered to pay for the passage of Swedish immigrants in exchange for a year of labor.
The Swenson's moved to Austin in 1850 where Swante began to invest in land. His wife, Jeanette, died shortly after they moved, and he married again in 1851. By 1854 he was investing in railways as well as land. He also ran a mercantile business, served two terms as county commissioner, and became the first treasurer of the State Agricultural Society.
A tireless worker with a good head for practical business growth, it's easy to see how Swante Swenson went from being a penniless immigrant who did not even speak English to building a vast and wealthy legacy in Texas history!