February 12 was the birthday of two Texas heroes who dared to dream of better things.
Green DeWitt was born in Kentucky in 1787, but his father moved the family to a land grand in Missouri territory around 1803, and DeWitt grew up in the Spanish-held territory. At the age of 34, inspired by Moses Austin's colonial grant from the Spanish government, DeWitt began to petition for his own land contract. After several attempts he finally succeeded in gaining authorization in April of 1825 to settle Anglo-Americans along the Guadalupe River, practically "next door" to Stephen F. Austin's colony at San Felipe.
For ten years DeWitt invested all that he had into developing the colony, but despite his energetic advertising and enthusiastic praise, the colony was neither a material nor a financial success for him. Desperate to improve his fortune, DeWitt traveled to Monclova in 1835 where he hoped to buy random 11-league grants, but while he was in Monclova he contracted cholera and died.
Some might summarize Green DeWitt as "a man who started out well and ended up with little to show for it." He risked everything on adventure and lost it all. Friends in Monclova even had to take up a collection to pay for his coffin. Though he did not succeed in the ways he had hoped, he certainly did not fail. With the hindsight of history, we can see that he succeeded far beyond his original intentions, because DeWitt's colony became the birthplace of the Texas Revolution. He set out to start a colony and instead played a part in the birth of a nation!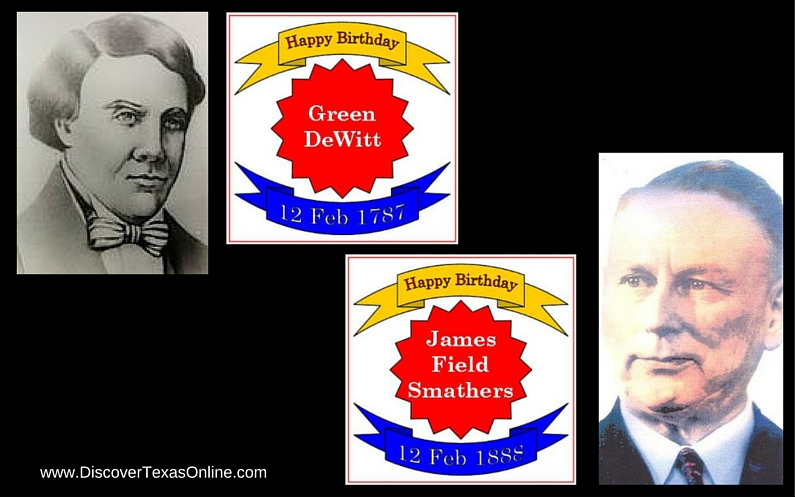 James Field Smathers, born on a farm near Valley Spring, Texas in 1888, is remembered as the inventor of the electric typewriter.
Smathers attended TCU, finished business school, and taught shorthand and typing for a year. In 1908 he moved to Missouri to take a job as a typist, accountant, and credit manager. Typing daily, he soon realized the need for a typewriter that would be faster and easier to use, so he began working on ideas for an electric typewriter. By 1912 he had a working model and applied for a patent, and by 1914 he had perfected his model.
World War II caused delays, but in 1923 Smathers contracted with the Northeast Electric Company who produced his electric typewriters. Eventually James Smathers joined the staff of IBM in Rochester where he worked as a consultant and developmental engineer until his retirement.