On a cotton farm near Crisp, Texas (now a ghost town in Ellis County), Ernest Tubb was born to a sharecropping family on February 9, 1914. He spent much of his growing-up years working crops with his family, but when work was done, Ernest loved to listen to music. Inspired by musician Jimmie Rodgers (the "Father of Country Music"), he taught himself to sing, yodel, and play the guitar, and he became rather good at it! When he was 19 he was hired on as a singer for San Antonio radio station KONO-AM, but the pay was so low during the Great Depression that he took a second job digging ditches for the Works Progress Administration and a third job as a drug store clerk.
Jimmie Rodgers died in 1933. In 1936, Ernest wrote to Rodgers' widow to ask for an autographed photo. They became friends, and Mrs. Rodgers helped Tubb get a recording contract with RCA, but his first two recording attempts were flops.
In 1939 Tubb moved to San Angelo where he was hired to do a 15-minute live radio show in the afternoons. Again the pay was small, so he drove a delivery truck to support himself. Unfortunately, a tonsillectomy that same year so affected his voice that he gave up singing and turned to songwriting, but what seemed a setback may have set him up for success.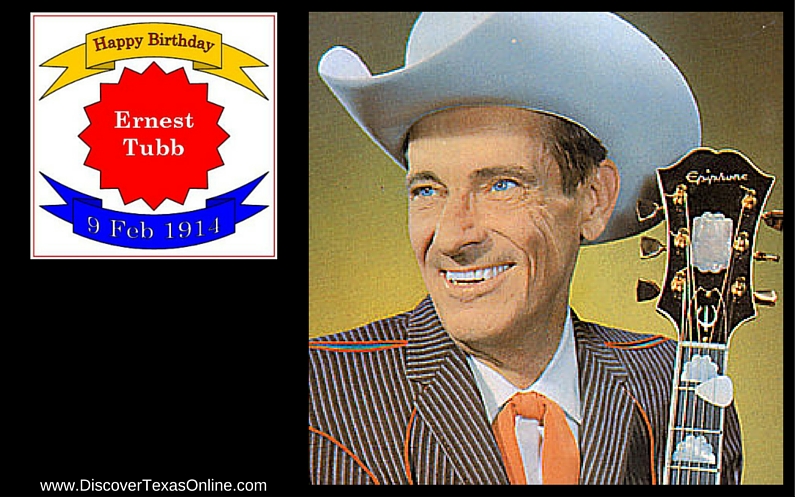 In 1940 Ernest Tubb tried singing again, this time under contract with Decca Records. His sixth single, Walking the Floor Over You, became a huge hit, selling over a million copies. Ernest Tubb was a star! Other big hits for which he is famous include Waltz Across Texas and Blue Christmas, later recorded by Elvis Presley.
Ernest Tubb's honky tonk style of Country & Western music earned him the nickname "the Texas Troubadour" and a place in the Country Music Hall of Fame.
Listen to Ernest Tubbs' greatest hits in these videos: