(We remember you, too, Clyde Barrow…but not for anything good.)
It's interesting, sometimes, how two people who share a birthday can be so different in every other regard.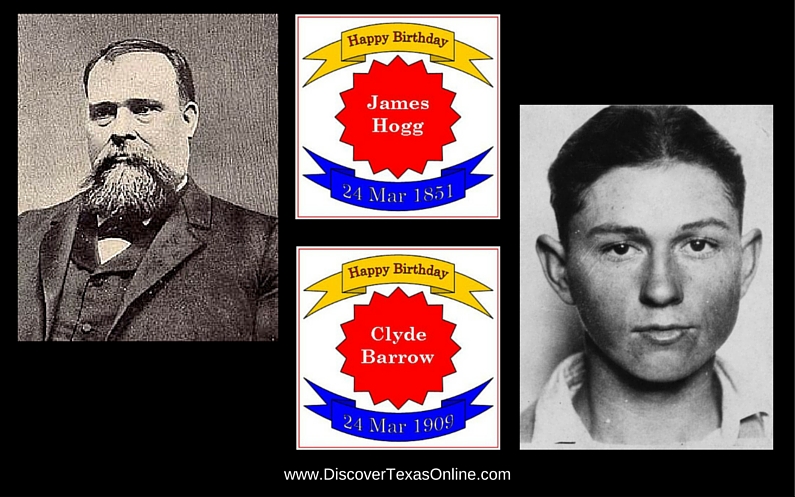 James Stephen Hogg was born near Rusk, Texas March 24, 1851. His parents had moved to the new republic shortly after independence was won in 1836, saw Texas become a state, and saw her secede from the Union to join the Confederacy. During the Civil War James' father served the Confederate Army as a brigadier general. He died in 1862. James' mother died the following year, leaving James' older sister, Frances, to raise him and his two brothers. They were desperately poor. James managed to stay in school until he was 15, then went to Alabama to study, but soon he had to come home and go to work to help support the family. He got a job as a printer's assistant with the local newspaper. He walked all the way from east Texas to Cleburn (south of Dallas) to find a job with the newspaper office there, but the printer's office burned down soon after and James had to walk right back home. For the next several years he hired out as a farmhand, but he aspired to more. On his own time, he studied law.
When he was 22, Hogg became Justice of the Peace at Quitman, Texas. He married and started a family of his own. He ran for the Texas legislature, but was defeated. In 1878 he was elected attorney for Wood County, then 7th district attorney in 1880. Hogg became very influential in politics, and there were some who encouraged him to run for the United States Congress, but he declined and chose to practice law in Tyler.
In 1886 Hogg was elected state Attorney General. Interstate railroads were a hot topic of the day, and Hogg proposed the creation of the Texas Railroad Commission as a regulatory body. He also sued the powerful railroad companies for using monopolies to fix prices. Hogg won his suit and gained even greater political attention as a man who could get things done.
In 1890, James Hogg became the 20th Governor of Texas and the first Texas governor to be born on Texas soil. He left office in 1895 and became very wealthy doing business in land and oil.
Jim Hogg County is named for him.
Clyde Barrow was also born into a poor family on March 24, 1909 in Telico, Texas, but he did not work to make himself a success. His family moved to Dallas in 1922, and by the time he was 15 Clyde had been arrested for stealing a car. Over the next four years he committed a string of local robberies.
In 1930, Clyde Barrow met Bonnie Parker shortly before he was arrested and jailed in Waco for burglary. Bonnie smuggled him a handgun so that he could escape while awaiting trial, but he was soon recaptured, found guilty, and sentenced to 14 years hard labor at the state penitentiary. He was released on parole after less than two years, made a bee-line for Bonnie, and joined forces with Raymond Hamilton, a bank robber. They went on a multi-state crime spree, robbing and murdering several people without remorse and making national headlines for the next two years. Despite the public fascination, though, they were small-time thieves whose largest hit was only $1500.
Law enforcement officials led by former Texas Ranger Frank Hamer and special FBI agent L. A. Kindell tracked Bonnie and Clyde and set up an ambush roadblock in Louisiana. On May 23, 1934 Clyde, with Bonnie, was killed by a barrage of 167 bullets. His legacy is a wasted life.