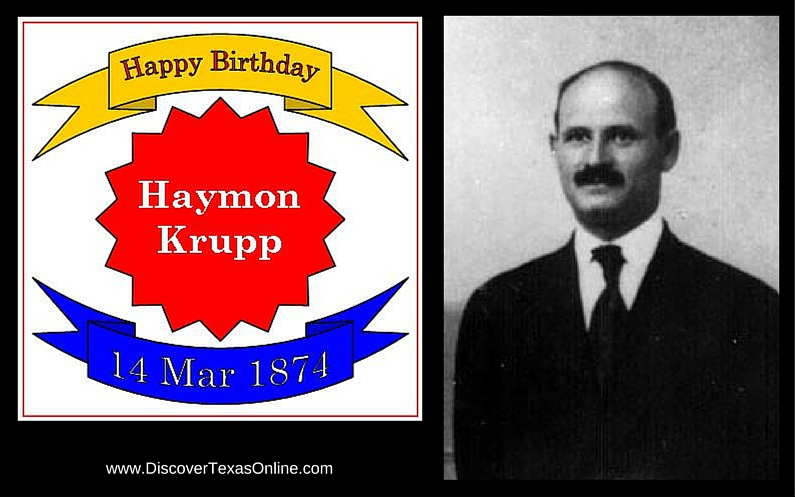 Haymon Krupp wasn't born in Texas, but he "got here as quick as he could."
Haymon was one of thirteen children in a Lithuanian Jewish household, born in Kozno in 1874. His family immigrated to El Paso in 1890 when Haymon would have been about 16 years old. The move surely changed his life in many ways, but young Haymon stepped up to the challenge. He got a job at a dry goods store, and by 1900 he had opened a men's wear store of his own while also establishing a large dry-goods house as well as founding an outdoor clothing factory.
In the early 20th century, oil was discovered in East Texas. In 1919 Krupp and a friend, Frank Pickrell, took a big risk. They pooled their money, organized the Texon Oil and Land Company, and purchased a lease option to drill for oil on University of Texas land in the Permian Basin. On May 28, 1923 their first well, the Santa Rita No. 1, came in…and it came in big!
You might say Haymon Krupp's life personified "the American dream." As a result of his hard work, business sense, and willingness to take calculated risks, Haymon became a very wealthy man! He was also exceptionally generous. He supplied coal to poor families in West Texas. He gave the funds to build B'nai Zion Temple as a place of worship in El Paso. In recognition of his character and generosity, he was enrolled in the El Paso Hall of Honor and named not only the "Most Distinguished Citizen of El Paso" but also the "Most Useful Citizen in Texas".