Two very famous ranchers from the Texas Panhandle celebrated their birthdays within two days of each other.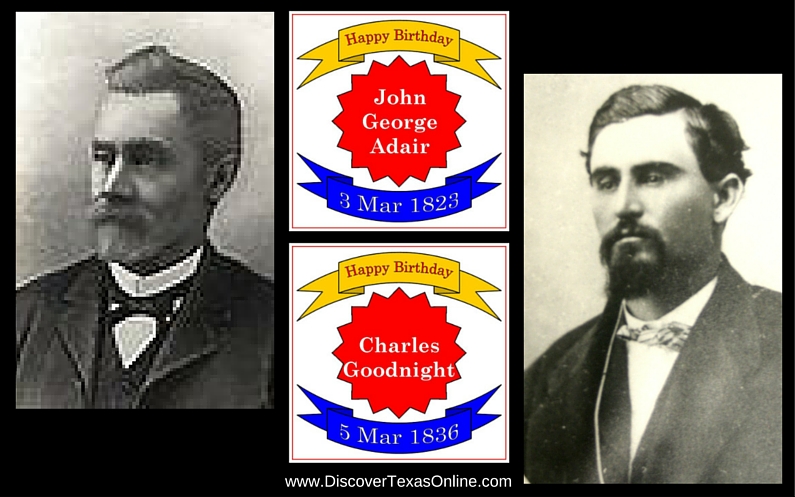 John George (Jack) Adair was born in Ireland March 3, 1823. Fascinated with stories of the American West and buffalo, he immigrated to the United States around the time of the Civil War.
Adair met Charles Goodnight–who was born March 5, 1836 in Illinois–on a guided buffalo hunt. By this time Goodnight was a well-known Texas cattleman. He told Adair about the Palo Duro canyon and surrounding country southeast of Amarillo, Texas. Goodnight described the wide open range with abundant grass in summer and natural protection in winter.
Soom the Adairs came to see the Palo Duro for themselves and found it was just as Charles Goodnight described it. Adair and Goodnight formed a partnership, drew up contracts, and purchased what would become a massive ranch with Adair's financial backing and Goodnight's expertise in ranch and cattle management. Goodnight suggested they call their operation the JA Ranch, after the initials of his partner. Under his management the JA Ranch became quite profitable, but Adair's fiery temper prevented the two men from ever becoming close personal friends.
If you visit the Texas Panhandle, you can still see remnants of the JA Ranch at the Palo Duro Canyon State Park and visit the Charles Goodnight Historical Center in Goodnight, Texas.