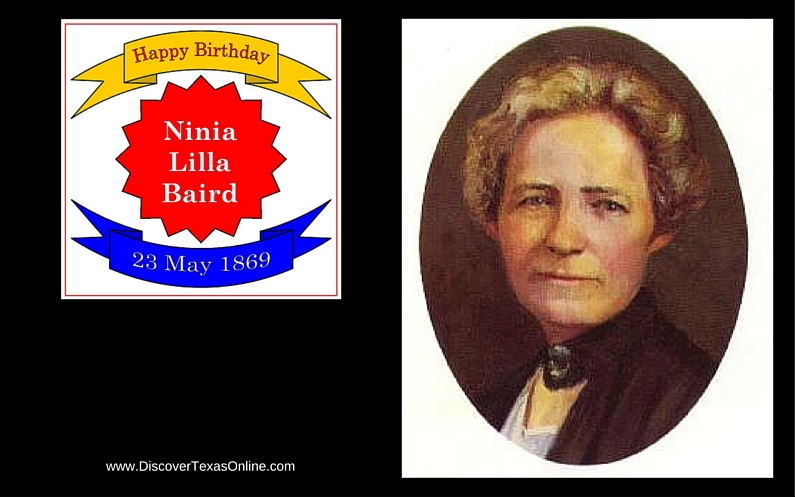 On May 23, 1869, Ninia Lilla Harrison was born in Tennessee. She grew up to be a remarkable woman who overcame much sadness to build a thriving business before women did such things.
Ninia's mother died when she was five. Her father remarried, but he was killed when she was about 13. Ninia went to live with an aunt who taught her, among other things, how to bake bread.
At sixteen she met William Baird, who was also an orphan. The two found much in common and were married when Ninia was just 17. William worked as a woodcutter until he could open a restaurant and bakery.
In 1901 the couple moved with their four children to Fort Worth, Texas. Here William became a street vendor selling popcorn (of all things!) from a bright red steam-operated popper with brass fittings. The novelty was a hit, and soon William had purchased another. With the profits, he bought another restaurant. Ninia did the baking for the family and for the restaurant, and life looked good…until William became ill with diabetes. There was no treatment in those days. By this time the family had grown to include eight children, and they all pitched in to help keep the family business afloat.
People loved Ninia's bread. What began as a kindness–giving extra mouthwatering loaves, still warm from the oven, to neighbors–became a business when people offered to pay for "Mrs. Baird's Bread." In 1908, with her husband's health declining, Ninia made a bold decision. She believed that she could make a living off her baking alone, so she sold the restaurant and focused on baking. When William passed away in 1911, her bakery was struggling as new businesses do, but it held promise.
Ninia made a second bold decision in 1914. She purchased a used commercial oven ten times the size of her wood-fired model from a local hotel. Because money was tight, she arranged to pay $25–one third of the asking price–in cash with the remainder to be paid off with a supply of bakery goods.
Two years later the business added a horse and delivery wagon.
A year after that, they built a new bakery, and ten years later they opened a second bakery in Dallas. Expanding their reach was risky, but Mrs. Baird's sons say she never batted an eye.
In another ten years, they built a branch in Houston and opened a cake bakery in Fort Worth. Now each of her sons had a bakery of his own, but Ninia remained active in management.
Mrs. Baird's Bread continued to grow until it became the largest family-owned bakery in the nation, but Ninia often said she was far prouder that her children had grown up to be good citizens than she was of the fact that she had founded a successful business. Mrs. Baird remained active as chairman of the board of her company until she died at 92. At her funeral, the pastor described Ninia as "an ideal woman in the eyes of God," fulfilling the highest traditions of American life but, even in the fullness of her work, remaining always a devoted mother and family woman. The Texas Senate passed a resolution declaring Mrs. Baird "a living example for mothers, wives, business executives, Christians and good people the world over." The importance she placed on family, education, and nutrition are supported to this day through the Ninnie L. Baird Foundation.
I love Mrs. Baird's story. Instead of quitting when life was hard, she rolled up her sleeves and made the most of everything she had to work with. In doing so, she not only rose above hardship–she soared!