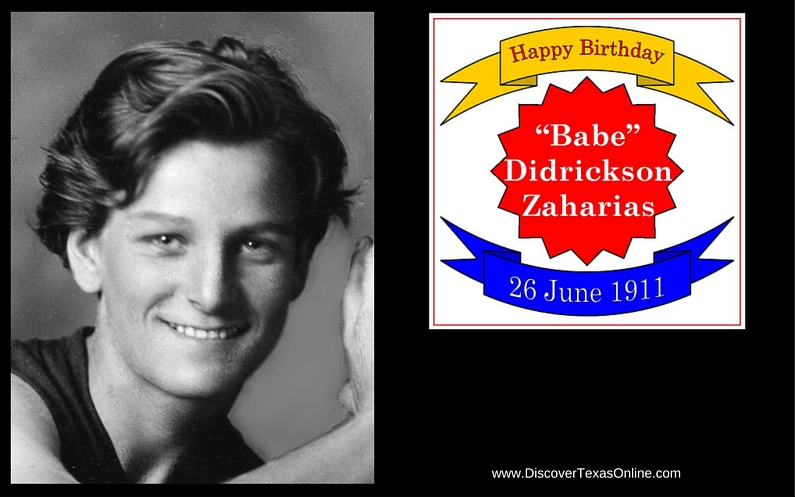 The Didricksons of Port Arthur, Texas named their new baby girl Mildred Ella, but her classmates called her "Babe" (after Babe Ruth) because she could hit a baseball farther than anyone. She also played basketball and participated in track and field events, and she excelled in those, too. From a very early age, her goal was to be "to be the greatest athlete who ever lived," and the fact that she was a girl had nothing to do with it in her mind.When Babe Didrickson graduated, a Dallas insurance company gave her a job as secretary specifically so that she could play for its Amateur Athletic Union (AAU) basketball team. She competed on the company's track and field team, as well.
At that time (1932), the AAU was the qualifier for the Olympics, and Babe made the Olympic team by setting world records for javelin throw, 80-meter hurdles, high jump, and baseball throw. She qualified to compete in five events, but at the 1932 Olympics in Los Angeles, women were only allowed to compete in three. Babe chose the javelin throw, 80-meter hurdles, and high jump, winning gold medals in the first two and tying the gold medal winner in high jump. (She was granted the silver medal on a technicality.) The Associated Press named her Female Athlete of the Year. Still hungry for challenges, Babe took up golfing and so completely dominated the sport that she won the AP award five more times. Those six wins made her the clear favorite when the Associated Press named their female "Athlete of the Half Century" in 1950.
A lifelong tomboy with intense focus and a steely personality, Babe had little time for romantic interests…until she met professional wrestler George Zaharias at the 1938 Los Angeles Open golf tournament. The two were married less than a year after George swept her off her feet.
Babe's success and popularity blazed a trail for other women athletes, though she often faced prejudice in the sports world. For example, her Olympic high jump score was dropped because one of the officials objected to her head-first style, and despite 82 tournament wins the US Golf Association refused to allow her to enter the National Open and changed their rules to specifically exclude women from competition. Babe responded by founding the Ladies Professional Golf Association (LPGA).
Sadly, Babe Didrickson Zaharias died of cancer in 1956. She was only 45.