Henry Ross Perot was born June 27, 1930 in Texarkana, Texas. He became a prominent figure in both business and politics, highly controversial and, at the same time, greatly admired as a man of principle–even by those who don't agree with his principles. He is perhaps best characterized for his daring, his energy, and his determination in any pursuit he believes in.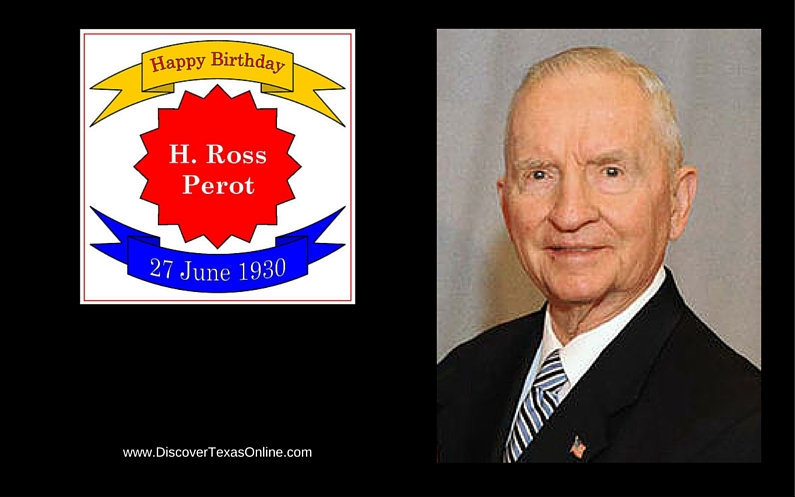 Perot joined the Boy Scouts in 1942, and just thirteen months later he had earned his Eagle Scout award.
He won a coveted slot to the U.S. Naval Academy in 1949 and, while there, helped to establish its honor system.
After fulfilling his commitment to the Navy, Perot took a job as a salesman for IBM and quickly became a top employee, once fulfilling his entire year's sales quota in only two weeks.
Frustrated by his inability to convince his supervisors to try new ideas, Perot founded his own data processing company, Electronic Data Systems, five years later in Dallas, Texas. With his signature style, he approached 75 different corporations and was turned down by every one of them. Not dissuaded, he powered forward, and EDS landed its first contract with the U.S. Government to digitize and manage records for the federal Medicare program. EDS debutted on the stock market in 1968 and its shares increased value tenfold within days. Fortune magazine hailed Perot the "fastest, richest Texan"…but he also became the "biggest loser ever"  in 1970 when EDS shares on the New York Stock Exchange lost $450,000,000 in one day. Perot had a way of taking big risks and believing his way to success.
In 1979, a political coup was heating up in the Middle Eastern country of Iran. Caught in the crossfire, two EDS employees were accused of a contract violation and imprisoned. When U.S. diplomatic channels were unsuccessful in securing their release, Perot organized and funded a rescue team and hired U.S. Army Special Forces Col. Arthur D. "Bull" Simons to head it up. Timing their daring rescue with a prison riot led by revolutionary forces, Perot's team snatched the two EDS employees and made a dash for the Turkish border.
When Steve Jobs lost his own company, Apple Computers, in a corporate mutiny, Ross Perot who invested over $20 million of his own money to help him restructure.
Perot was also a supporter of Vietnam POW/MIA issues. Believing a government cover-up was hiding information on hundreds of American servicemen behind, Perot engaged in private discussions with Vietnamese officials and launched private investigations on the U.S. Department of Defense.
This is where many people believe Perot's principled idealism may have gone too far. By using his personal position as a wealthy citizen to go over the heads of governmental authorities, Perot crossed swords with the conservative leaders at that time–Ronald Reagan and George H. W. Bush. America's citizens were frustrated with political compromise and a tone-deaf Congress that granted itself generous pay raises during a nationwide recession. They cheered Ross Perot when he said, "This city has become a town filled with sound bites, shell games, handlers, media stuntmen who posture, create images, talk, shoot off Roman candles, but don't ever accomplish anything. We need deeds, not words, in this city." Perot was also vocal in his opposition of U.S. involvement in the Persian Gulf War. Frustrated by his inability to foment change, Perot began to consider running for president as an independent. This he did in 1992 and again in 1996.
Some believe that his candidacy both times split the conservative vote, enabling liberal Democrat Bill Clinton to win. Others argue that as a strong third-party candidate Perot drew evenly from both parties and gave voice to several important issues. When he withdrew from the 1996 race claiming threats had been made against his family, even his supporters were unforgiving. Some claimed he was making excuses. From my personal vantage point, though, that seems unlikely. Ross Perot was, above all things, a man of principle who never backed down to any challenge. And from the look of things, through two decades of administration by both major parties, Washington is still pretty much as Perot described it.