Mirriam Amanda Wallace was born in Bell County, Texas June 13, 1875. She studied at Salado College and Baylor Female College (now the University of Mary-Hardin Baylor in Belton, Texas) before marrying attorney James Edward Ferguson in 1899. When her husband entered Texas politics, he took on the nickname of "Pa" Ferguson. It was perhaps natural that his wife, Miriam Amanda (M. A.) would become known as "Ma" Ferguson.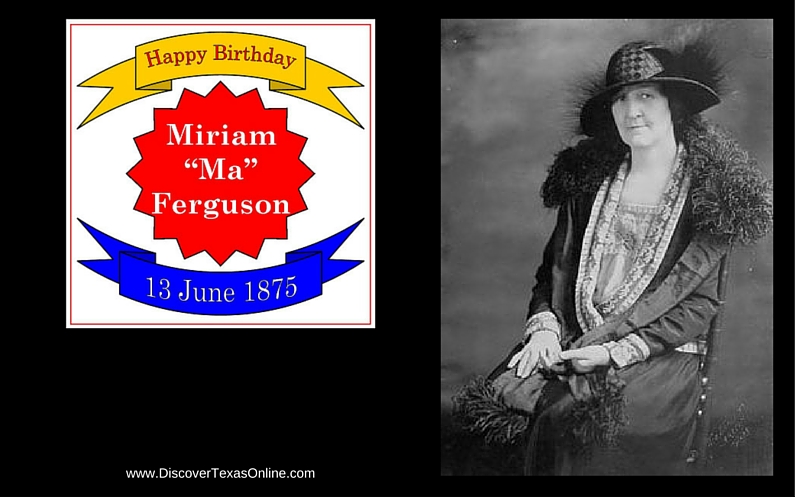 Jim "Pa" Ferguson was elected Governor of Texas in 1914 and re-elected two years later, but was impeached for misapplication of public funds, convicted, and removed from office in 1917. Under the terms of his impeachment and conviction, he was not allowed to hold state office in Texas again…but "Ma" could.
She campaigned for the Democratic nomination for governor promising voters that if elected she would follow her husband's advice, and Texas would get "two governors for the price of one." She urged voters to "restore Pa's honor" by voting for her, and Texas Democrats, who were not bothered by Ferguson's conviction, voted for "Ma". In 1925 "Ma" Ferguson became the first female Governor of Texas and the second female governor in the United States. (Nellie Ross had been sworn in as governor of Wyoming two weeks earlier, finishing the term of her husband, who died in office.)
"Ma" Ferguson's time in office was plagued with criticism. Many women, who had so recently won the right to vote, were highly offended that "Pa" was essentially skirting the law by using his wife as a puppet, making her achievement a farce. She held office until 1927, but she did not win re-election.
"Ma" Ferguson ran again for governor in 1932, served until 1935, and retired from political life.
There were many charges of corruption during Mrs. Ferguson's tenure. There were rumors, for example, that certain contracts were granted only to companies that bought advertisement in the Ferguson's newspaper, the Ferguson Forum. During her two term of office, Mrs. Ferguson pardoned almost 4000 convicted criminals. Many were violators of the state's prohibition laws. Though the Fergusons were "teetotalers" in their personal lives, they also backed the liquor industry. As chief executive of the state, a governor's job is to execute the law as it stands, but there were persistent rumors that pardons could be arranged in exchange for cash "donations" to "Pa" Ferguson. These charges were never proven but were strong enough that voters in 1936 passed a constitutional amendment setting up a politically independent Texas Board of Pardons and Paroles and stripping the governor of the power to issue pardons.
It was six decades before Texas elected another woman as governor–Democrat Ann Richards.