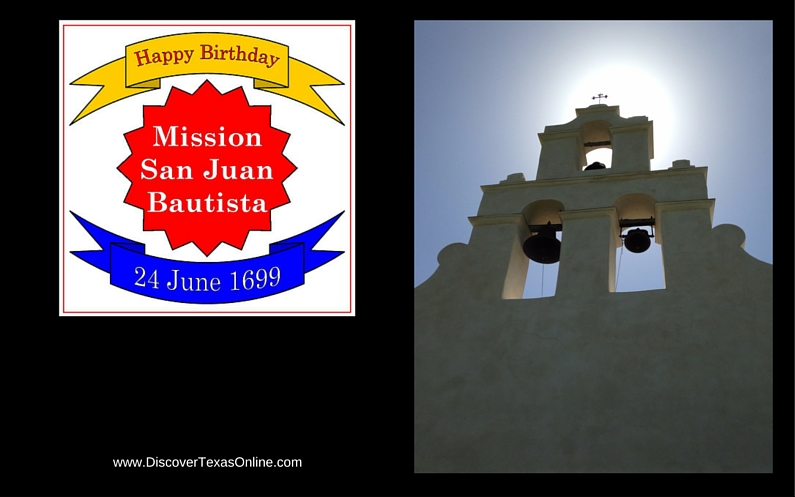 Mission San Juan Bautista, the "Mother of Texas Missions", was founded on the feast day of Saint John, June 24, 1699 as an outreach to the Coahuiltecan people of South Texas. The Franciscans first attempted to build their mission on the Río de Sabinas in Nuevo León, Mexico, but were only able to sustain the effort for a few months. On January 1, 1700 they tried again, this time in Coahuila, Mexico about 5 miles south of the Rio Grande, 35 miles downriver from Piedras Negras (across from Eagle Pass, Texas). The fortified mission, which was soon joined by two sister missions, was much more successful in this location, instructing thousands of native Americans in the Catholic faith and serving as a stop-over and supply station for both missionary and military expeditions to Texas.
In 1718, one of the sister missions, San Francisco Solano, was relocated to San Antonio where it became known as Mission San Antonio de Valero–the "Alamo".
When the Mexican War of Independence began in 1810, the fortified missions faced great difficulty and lost effectiveness. In 1829, Mexico won its independence from Spain, and the old missions were secularized, their land distributed to the citizens. Still (and in spite of two name changes), the old San Juan Mission stood as a gateway to Texas history through the Texas Revolution, the Texas Republic, statehood, and until the Mexican War. After the war, traffic began to shift to Eagle Pass, upstream, and to Laredo and Mission San Juan Bautista crumbled to a pile of earth and stone.
Mission San Juan Bautista is considered a Texas mission because at the time it was established "Texas" included the region that is now Texas as well as what is now Coajuila, Mexico (and a whole lot more). The mission was also instrumental in shaping Texas history, but should not be confused with Mission San Juan Capistrano in San Antonio.