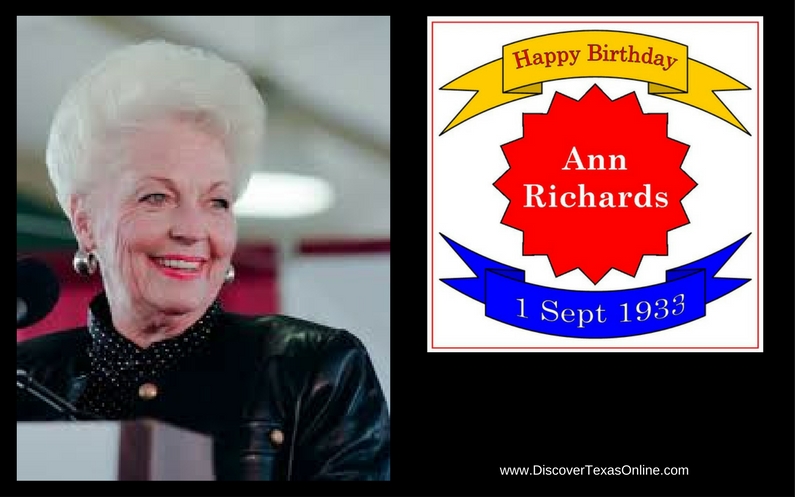 On the first day of September, 1933, Robert Willis and Mildred Warren of Lakeview, Texas–a tiny community just north of Waco–welcomed their only child Dorothy Ann Willis into the world. Ann showed an interest in politics at an early age, participating in Girls State while a student at Waco High School and attending Baylor on a debate scholarship. After completing her bachelor's degree, she married her high school sweetheart, David Richards. The couple moved to Austin, where Ann earned her teaching certificate from the University of Texas, taught social studies and history for a short while, and had four children. She also took the opportunity of living in Texas' capitol city to campaign for liberal and progressive candidates.
Richards built her reputation as a campaigner, helping to elect several liberal Democrats into office, training female candidates and managers, and lobbying for a proposed Equal Rights Amendment to the Constitution. In 1976 Ann ran for a position on the Travis County Commissioners' Court and won two terms…but her victories came with a cost. The strain of politics strained her crumbling marriage, and Richards' drinking caused her to enter a treatment program for alcoholism after her 1980 win. When Texas State Treasurer Warren G. Harding, also a Democrat, became mired in legal troubles in 1982, Richards ran for that post and won. She had now earned enough recognition to attract an invitation to speak on behalf of U. S. presidential candidate Walter Mondale at the 1984 Democratic National Convention. He lost, but Richards was re-elected treasurer in 1986. She used her position to maximize the return on investments of state monies and was generally popular for getting results. When Michael Dukakis ran for president in 1988, Ann Richards was asked to speak at the Democratic National Convention again–this time as keynote speaker. Her speech was sarcastic, witty, and peppered with one-liners. She deftly used humor and down-home charm to draw laughter while she hammered the opposition. Like Mondale, Dukakis lost badly, but Ann Richards was in a prime position to make a run for Governor of Texas in 1990, narrowly winning after a particularly nasty and hotly contested race.
Richards served only one term as governor, but in that time she focused on economic revitalization for the state and attempted to streamline government and cut back on bureaucracy. She signed a law requiring proof of valid auto insurance in order to obtain or renew a vehicle safety inspection, driver's license, or license plates. She also reformed the Texas prison system, increasing prison space, instituting substance abuse programs for inmates, and reducing the number of violent criminals released. These accomplishments were generally well-received.
Less popular was her attempt to reduce sales of semi-automatic weapons and her opposition to a concealed weapons bill sponsored by the survivor of a mass murderer.  Her "Robin Hood plan" to equalize educational opportunity by confiscating and redistributing local school tax money was also hotly contested, as was the institution of gambling through the Texas Lottery, advocated as a means of supplementing school funding though only a small percentage of the money actually reached Texas children.
In 1994 she ran for re-election and faced George W. Bush, son of the presidential candidate she had laughingly roasted at the 1988 convention. This time her sarcastic humor became a liability as voters took umbrage when she reffered to her handsome young opponent as "shrub," "that young Bush boy," and "some jerk."
 Ann Richards will be remembered as a feisty, colorful, and independent Texas woman. She died of cancer in 2006.