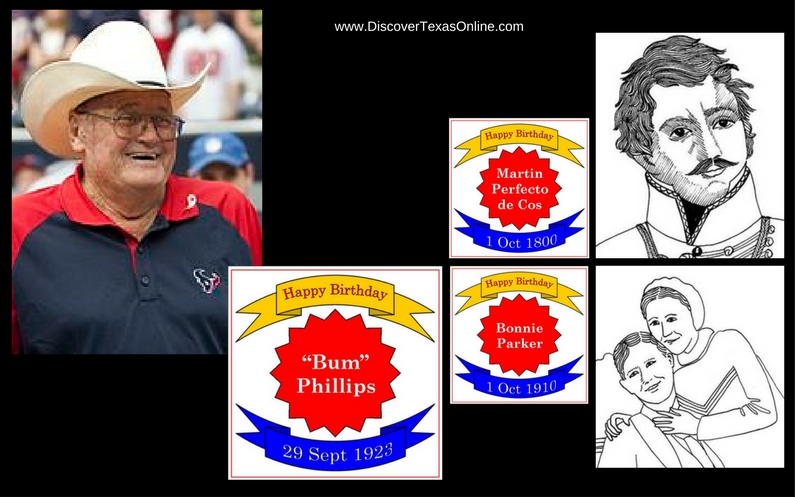 "Some days you win. Some days you lose…" the song says. It's always interesting to read about history's winners and losers and to try to discern what made them who they were. Bad breaks, or bad choices? You decide…
Oail Andrew Phillips (nicknamed "Bum" because when his sister tried to say "brother" it came out sounding more like "bumble") was born September 29, 1923 in Orange, Texas. His growing-up years–as described in his memoirs, Bum Phillips: Coach, Cowboy, Christian—were average enough, but there was nothing average about Bum Phillips…and then again, he was completely average. Homespun and humorous, Bum didn't put on airs, despite the fact that he became a beloved football coach at five colleges before becoming an NFL coach for two professional teams. His son, Wade Phillips, is an NFL coach as well.
Remembered for his many witty sayings, Bum Phillips died at his Goliad ranch on October 18, 2013, at the age of 90.
Martín Perfecto de Cos was born in October 1, 1800 in Veracruz, Mexico into a decidedly above-average family. He had every advantage. His father was an attorney. He became a cadet in the Mexican Army at 20 and married the sister of Antonio López de Santa Anna.
Having the powerful dictator and general as a brother-in-law, it comes as no surprise that Cos gained an appointment as Commander of Military Forces in Texas when the colonial citizens began to revolt in July of 1835. He marched into Texas with 300 soldiers, conquered Goliad on October 1 (his 35th birthday), and moved to take San Antonio de Béxar where he ordered the arrest of rebel leaders. Perhaps the privileged circumstances of his early life accustomed him to an easy access to power? Imagine his surprise when Stephen F. Austin's rebel forces responded by besieging the town, forcing Cos to surrender not only his position but his weapons as well! Humiliated, Cos retreated with barely half his troops, but met Santa Anna near the border and returned to take his revenge at the Alamo on March 6, 1836. If he felt avenged, though, his victory did not last long, for Cos was defeated and taken prisoner along with his rapacious brother-in-law at the Battle of San Jacinto roughly six weeks later.
Then we have Bonnie Elizabeth Parker, born October 1, 1910 in Rowena, Texas. She really did have a difficult start in life, though perhaps not so difficult as to explain why she became a partner in one of the most notorious gangs in history.
Bonnie's father was a bricklayer who died when she was four. Her mother moved in with family in the Dallas area and worked as a seamstress. Bonnie developed a rather dark outlook, writing poems about ill-fated lovers and wasted lives. She dropped out of school at 15 to marry Roy Thornton, a petty criminal who often abandoned her. Lonely and enamored with the fantasy life she saw in motion pictures, Bonnie continued to make poor choices. Though she was still married to Thornton, she took up with the ne'r-do-well Clyde Barrow, a thief and murderer. Pulp fiction may portray Bonnie and Clyde with all the romance and drama she obsessed about in movies, but reality is different. Bonnie Elizabeth Parker was ambushed by law enforcement and shot dead at the age of 23.