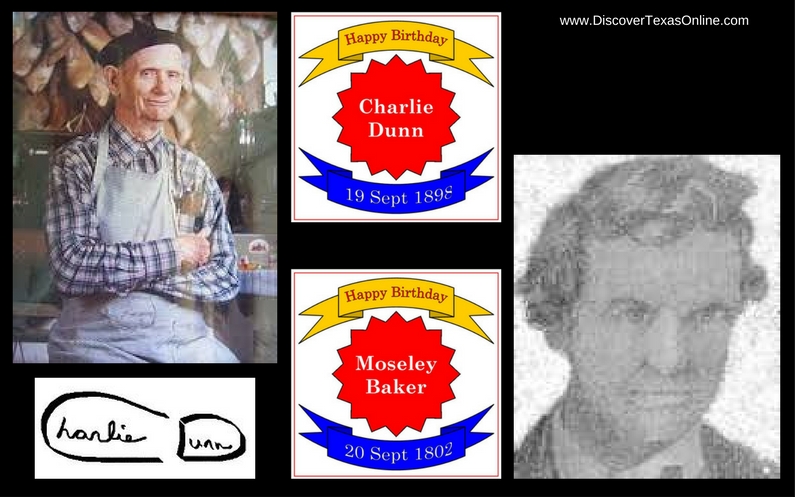 Unless you've lived in Texas for a while, you might not realize the value of a good pair of boots…or a good bootmaker…but one such man was dubbed the "Michelangelo of Cowboy Boots" and even had a song written about him!
Charlie Dunn was born September 19, 1898 on a houseboat floating on Arkansas' White River, the third of ten children born to Thomas and Molly Dunn. The family came to Texas in a covered wagon when Charlie was three and settled in Glory, near Paris, just inside the Oklahoma border.
A 5th-generation bootmaker (his great-great grandfather, Winfield Scott Duam, was a bootmaker in County Cork, Ireland), young Charlie began apprenticing under his father on his 7th birthday. He finished his first pair of boots when he was eleven–a birthday present to himself. For the next 79 years, Charlie spun stories and stitched boots for the likes of cowboy movie stars Gene Autry and Slim Pickens, western writer J. Frank Dobie, and country musicians Ernest Tubb and Jerry Jeff Walker. His boots sold for over $3000 a pair, and people would gladly wait three years for delivery!
I love biographies like his–stories of humble men who accomplished great things.
Our other "birthday boy" is Moseley Baker–a very different sort of man.
Moseley Baker was born September 20, 1802 in Norfolk, Virginia. He became a lawyer and a pioneer journalist, was elected to the Alabama State Legislature, and served as Speaker of the House. By all accounts, some would say he had the makings of a great man…but Baker was a spendthrift. He got himself deep in dept and was arrested for writing a fraudulent check for $5000. Somehow he managed to escape and make his way to Texas as a fugitive with only $1 in his pocket. True to form, he borrowed $10 from a fellow colonist to open a law practice.
Does it seem odd to you that a man who has just escaped great debt and broken the law would go into more debt to set himself up as a legal adviser? That's the sort of man Moseley Baker was, and Sam Houston knew it. As often as Moseley Baker tried to insert himself into positions of leadership, Houston called him out for it.
When the Texas Revolution broke out, Moseley began as a private at the Battle of Gonzales, but soon got up a company of men and made himself their leader. He was wounded at the Battle of San Jacinto. Despite the deep grudge between him and Texas General Sam Houston, Moseley was named brigadier general of the militia of the Republic of Texas.
After the war, he finagled two terms in the Congress of the Republic of Texas and thanked his former commander by leading impeachment proceedings against then-President Sam Houston.
Moseley Baker added a lot of impressive-sounding titles to his resume, but if I had to choose, I'd prefer the legacy of a skilled and honest bootmaker!