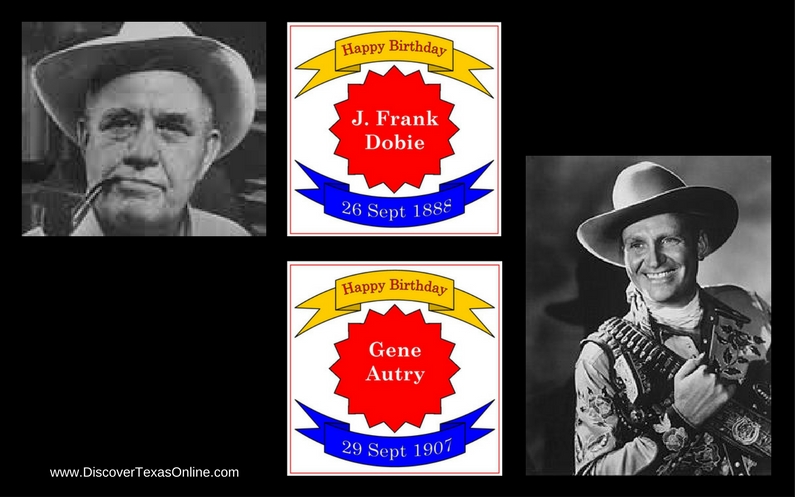 Today we celebrate the birthdays of two Texans who contributed much to the arts, folklore, and culture of Texas–James Frank Dobie and Gene Autry, "The Singing Cowboy".
James Frank Dobie was, quite appropriately, born at "home, home on the range" on a ranch in Live Oak County, Texas on September 26, 1888. I have a particular interest in him because he later moved to Alice, Texas where my father grew up and to Alpine, Texas where my mother attended college.
James' future as a writer may have started early in life when his parents, Richard and Ella Dobie, read to him–his father reading from the Bible, and his mother reading the classics. As an adult, Dobie wrote briefly for a couple of newspapers before settling in to write about life in Texas during the days when the West was being settled. He is remembered for his rich, descriptive folklore.
What is not so well remembered is that J. Frank Dobie was instrumental in saving the Texas Longhorn freed from extinction, preserving not only the tales of the cowboys but their herds as well.
Orvon Grover Autry, better known as "Gene", was born near Tioga, Texas on September 29, 1907. The grandson of a Methodist preacher and son of a rancher, Gene worked on the ranch until he graduated high school then took a job as a telegrapher for the railroad. It was lonely work with long stretches of empty time, especially when he pulled the midnight shift. To pass the time (and perhaps to keep himself awake) Autry would bring his guitar and sing in the office. This practice eventually got him dismissed…but before it did, he was overheard by a customer who encouraged him to sing professionally. That customer was none other than the famous Will Rogers.
Gene Autry acted on that advice and became famous as "The Singing Cowboy" on the radio, in movies, and on television for over 30 years. He appeared in 93 films and 91 television shows, always depicting the character of the American west as a hero who was honest, brave, and true. His cowboy music was influential in the developing genre of country and western music. He became so famous that he was able to purchase a television station, several radio stations, and a Major League Baseball team! He has FIVE stars on the Hollywood Walk of Fame, and the town of Gene Autry, Oklahoma is named in his honor.
You may or may not recognize his signature Western song below, but I'll bet you recognize his next three hits!