Two great men (and great Texans) share a September 27th birthday.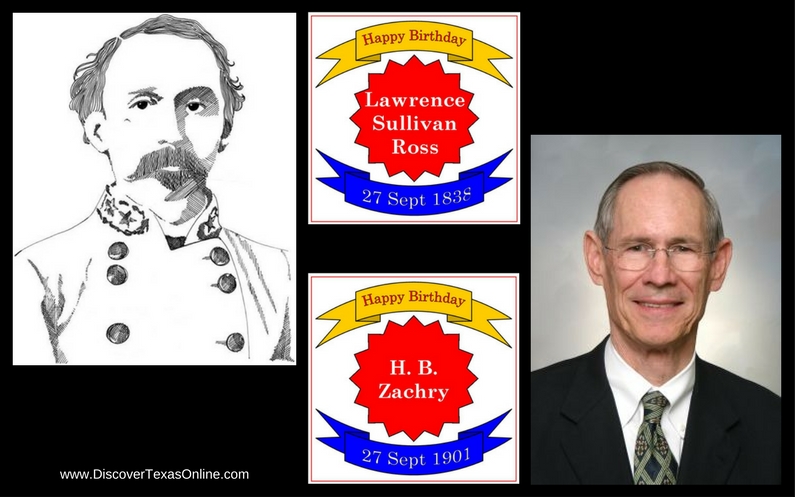 Lawrence Sullivan Ross–Texas Ranger, senator, governor, university president, "soldier, statesman, and knightly gentleman"–was born in Bentonsport, Iowa Territory on September 27, 1838. Shapley Ross brought his family to the Republic of Texas in 1839 and settled in Waco where "Sul" grew up wanting to be an Indian fighter like his father. Though his ambition was to be a soldier, he enrolled in college first at Baylor University (then in Independence, Texas) and later at Wesleyan University in Florence, Alabama before joining the Texas Rangers. As captain of the Waco Company, he took part in the Battle at Pease River that resulted in the recovery of Cynthia Ann Parker. When the Civil War broke out, he resigned from the Rangers and joined the Sixth Texas Cavalry as a major. By the end of the war, he held the rank of colonel.
After the war, Ross served as sheriff of McLennan County and helped to write the Texas Constitution of 1876, which is still in effect. Ross ran for the state Senate and served one term before serving two terms as Governor of Texas. It was during his term that the new state capitol building in Austin was completed.
Ross left office to become president of the Agricultural and Mechanical College of Texas, which is now known as Texas A&M University. Under his direction the college grew and flourished. President Ross died suddenly at his home in College Station in January, 1898.
Sul Ross State University in Alpine, Texas is named in his honor.
H. B. Zachry–engineer, contractor, philanthropist, rancher, and business leader–was born on September 27, 1901 in Uvalde, Texas. After graduating from Uvalde High School, the popular athletic student headed to Texas A&M where he had a scholarship to study animal husbandry and become a rancher. But the military college was stretched thin during the years of World War I. The courses he hoped to enroll in were not being offered in the fall semester of 1918, so he switched to civil engineering. So it was by "happy accident" that Henry Bartell Zachry became the founder of the H. B. Zachry Company, one of the largest construction  companies in America.
Read about one of his famous projects here.