Today we celebrate the birthdays of two modern celebrities: Michael Johnson and Tommy Lee Jones.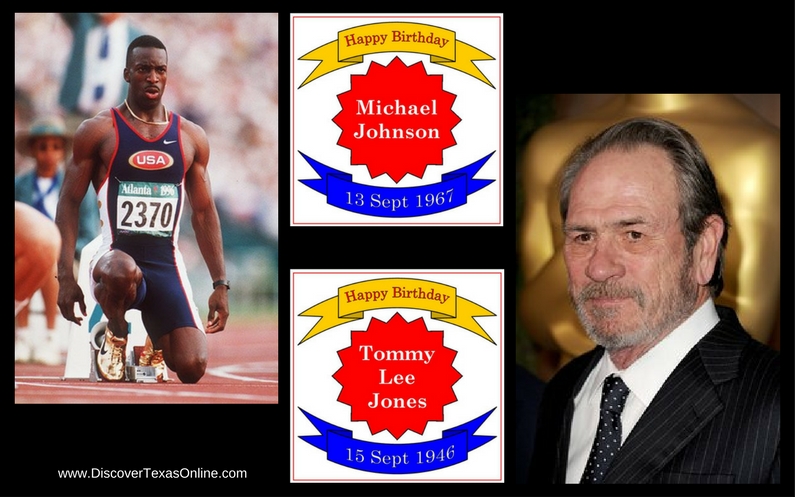 Olympic runner Michael Duane Johnson was born September 13, 1967 in Dallas, Texas. He attended Baylor University where he trained under coach Clyde Hart and won several NCAA titles in indoor and outdoor sprints and relays. When he graduated in 1990, he held the #1 world ranking at 200 and 400 meters.
Wearing his signature golden track shoes, Johnson competed in the 1992 Barcelona Olympics, the 1996 Atlanta Olympics, and the 2000 Sydney Olympics winning four gold medals for the USA team. He is the only male athlete in history to win both the 200 meter and 400 meter events at the same Olympics. Johnson also won eight gold medals at World Championships. Despite several unfortunate injuries and illnesses that hampered his career, Johnson is considered one of the greatest and most consistent sprinters in the history of track and field.
Actor Tommy Lee Jones was born September 15, 1946 in San Saba, Texas and raised in Midland. His numerous roles in films and on television have netted him four Academy Award nominations. He won the Academy Award for Best Supporting Actor in The Fugitive, but will perhaps be best remembered for his role as "Agent K" in the Men in Black series.