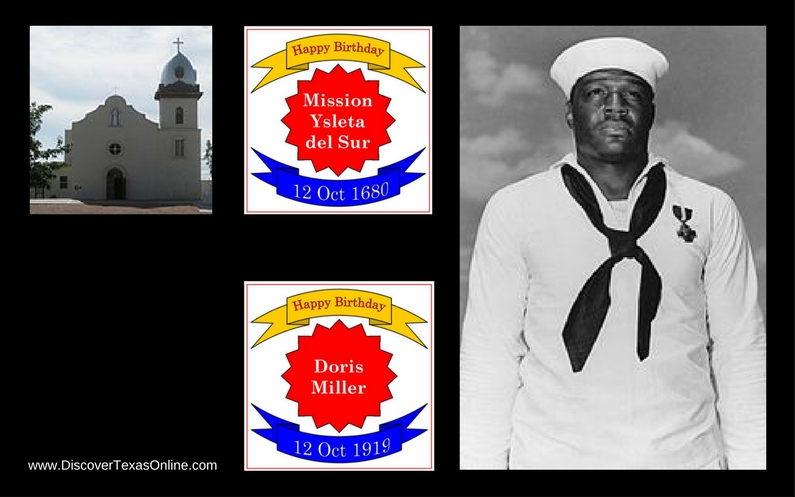 Doris Miller has got to be one of my favorite Texas heroes. (I know I've said that a few times before, but really–he's in my Top 10!) Here's why…
Doris Miller was born October 12, 1919 in Waco, Texas. The third of Connery and Henrietta Miller's four sons, Doris was helpful–a hard worker, but school presented struggles. At 17, faced with repeating the eighth grade, he decided to drop out instead. He applied to the Civilian Conservation Corps, but was turned down, so he continued to work for a while on his father's farm. Then, in September 1939, he enlisted in the U.S. Navy.
The Navy assigned him to work as a Mess Attendant–a cook. Two years later, he had been promoted to Ship's Cook, Third Class, on the battleship West Virginia at Pearl Harbor, Hawaii.
On December 7, 1941, Miller had served breakfast and was collecting laundry when the first of nine torpedoes struck the West Virginia amidship. As klaxons shrilled the alarm, Miller headed for his battle station…only to realize that his anti-aircraft battery magazine had been destroyed. He quickly looked for other ways to help.
The ship's captain had been hit. Another commanding officer grabbed Miller and asked him to help carry the captain to a safety. When that was done, Miller took a position firing one of the ship's anti-aircraft machine guns, and he kept firing at the Japanese kamikazes until he ran out of ammunition as the West Virginia sustained crippling damage. When the order came to abandon ship, Miller helped to move injured sailors to safety, undoubtedly saving many lives. For his heroism he was awarded the Navy Cross.
I love this story. I makes me wonder what it takes to become a hero. It would seem that neither power nor privilege matter half as much as devotion to duty and a conviction to defend the safety of others despite personal danger. Any way you define it, Doris Miller was a hero.
October 12 also marks the date in 1680 when the Tigua Tribe, retreating from the Pueblo Revolt near Albequerque, New Mexico, resettled with Spanish colonials and Comanches near El Paso, Texas. They founded a new pueblo community and a mission church there. Mission Ysleta del Sur is the oldest continuously operating parish in the state of Texas.
The original 1680 structure has been rebuilt and relocated several times, owing to fire and flood. In an odd twist it was a flood that altered the course of the Rio Grande, landing the Ysleta Mission on the Texas rather than the Mexican side.
The Texas Historical Commission erected historical markers recognizing Ysleta as the first mission and pueblo in Texas in 1936, 1962, and 1970. On July 31, 1972 Mission Ysleta del Sur was added to the National Register of Historic Places. If you visit the mission, you can also visit their wonderful museum, see re-enactors, and watch cultural dancers perform.