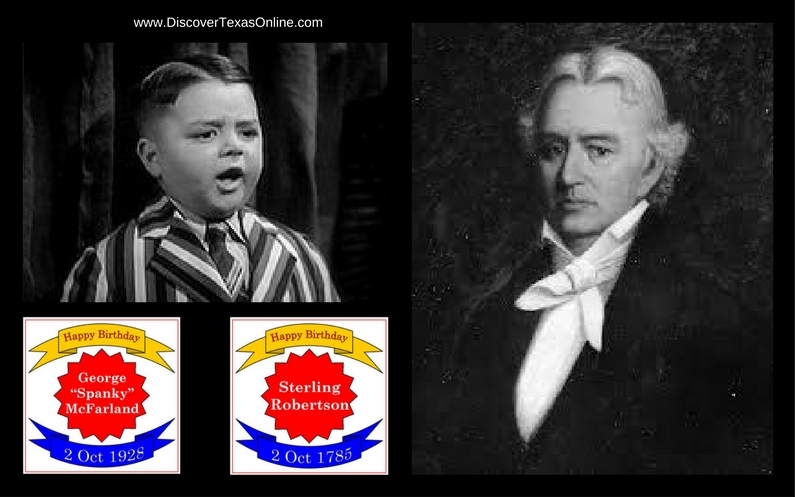 October 2 is the birthday of two ground-breakers who lived more than a century apart.
Sterling Robertson was a Texas empresario. Born in Tennessee in 1785, he first came to Texas in 1825 then returned in 1830 with the first 200 of 600 families he recruited to Robertson's Colony near Salado. An impulsive and flamboyant man, Robertson was a ground-breaker in Texas history as a delegate to Washington-on-the-Brazos, where he signed both the Texas Declaration of Independence and the Constitution of the Republic of Texas. He also served as a Senator during the first two sessions of the Republic of Texas Congress.
As a child actor, George McFarland was a ground-breaker in moving pictures and television. Born in Denison, Texas, on October 2, 1928, George modeled children's clothing for a Dallas department store and appeared on a local billboard advertising Wonder Bread. When his aunt saw a studio advertisement for "cute kids" in January 1931, she mailed off pictures from young George's portfolio that landed him an invitation to come in for a screen test. He was a hit! In Our Gang, a series of short movie comedies from the 1930s and 40s, and later in the early television show The Little Rascals, McFarland played the part of a balky-but-prodigious baby who grew up to become the head of the gang. His nickname "Spanky" came from a term used at that time for an intelligent, gifted toddler.