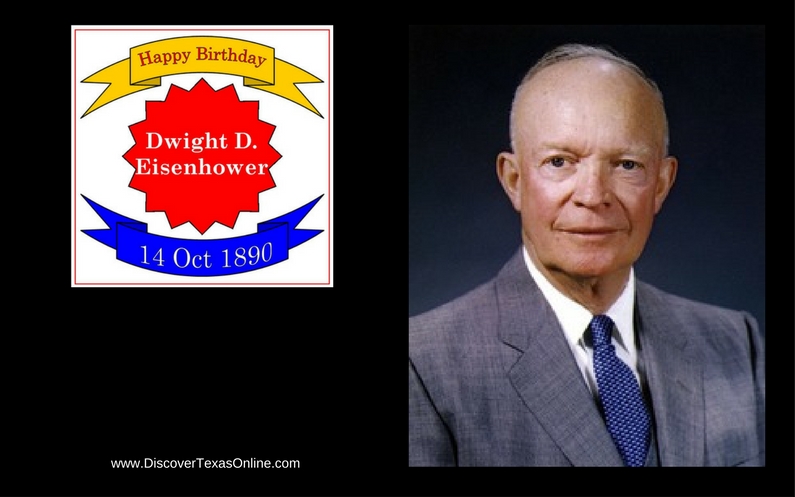 Dwight David Eisenhower, who would become a beloved World War II General (Five Stars) and the 34th President of the United States, was born in Denison, Texas on October 14, 1890. The third of seven boys, Dwight was the only one born in Texas. His father, an engineer and merchant in Hope, Kansas, moved his family to Texas after his business collapsed due to poor economic conditions. The family was desperately poor when baby Dwight came along, but they moved back to Abilene, Kansas when he was about two, and by the time he was eight or nine they were back on their feet again. Eisenhower always considered Abilene, Kansas his hometown.
Dwight David was originally named David Dwight, after his father, but his mother then thought better of it and switched the order of his names so that the family wouldn't have two Davids. It hardly mattered, though, because all seven boys were called "Ike"–a shortened form of their family name. Dwight was "Little Ike". One of his brothers was "Big Ike", and so forth. Dwight was the only one who carried the nickname into adulthood.
The Eisenhower family were Mennonites and set aside time for Bible reading at breakfast and dinner. Regular chores built a good work ethic, and strict discipline built steady character. Dwight's mother later joined the Jehovah's Witnesses, but Dwight never did. Though he described himself as "deeply religious" and was later baptized into the Presbyterian Church, he considered himself "unattached" to any denomination.
His mother was opposed to war because of her faith, but Dwight read his mother's history books and became fascinated with military history. When he graduated from high school there was no money for college, but Dwight and his older brother both wanted to go. They made a deal. They would take turns attending college–Edgar going first, since he was oldest–while the other brother worked to earn tuition. Dwight took a job as a night supervisor at a creamery, and Edgar went off to study law. At the end of the first year Edgar asked for a second, and Dwight agreed to work for a second year. Then he had the idea to apply with his state senator for an appointment to either the Naval Academy at Annapolis or the Army's Military Academy at West Point. Since he'd taken an extra year to finish high school due to a life-threatening injury and then spent two years working to put his brother through college, Dwight was too old to qualify for Annapolis…but he was accepted to West Point and began in 1911.
You can read more about his brilliant career, and I highly recommend visiting his birthplace in Denison, Texas.
One more story before we close:
Dwight and Mamie Eisenhower had only one surviving son–John, who grew up to become a brigadier general and U.S. Ambassador. John's first son (President Eisenhower's grandson) was named David, and the presidential retreat, Camp David, is named for him. When David grew up he married the daughter of his grandfather's Vice-President, Richard Nixon.