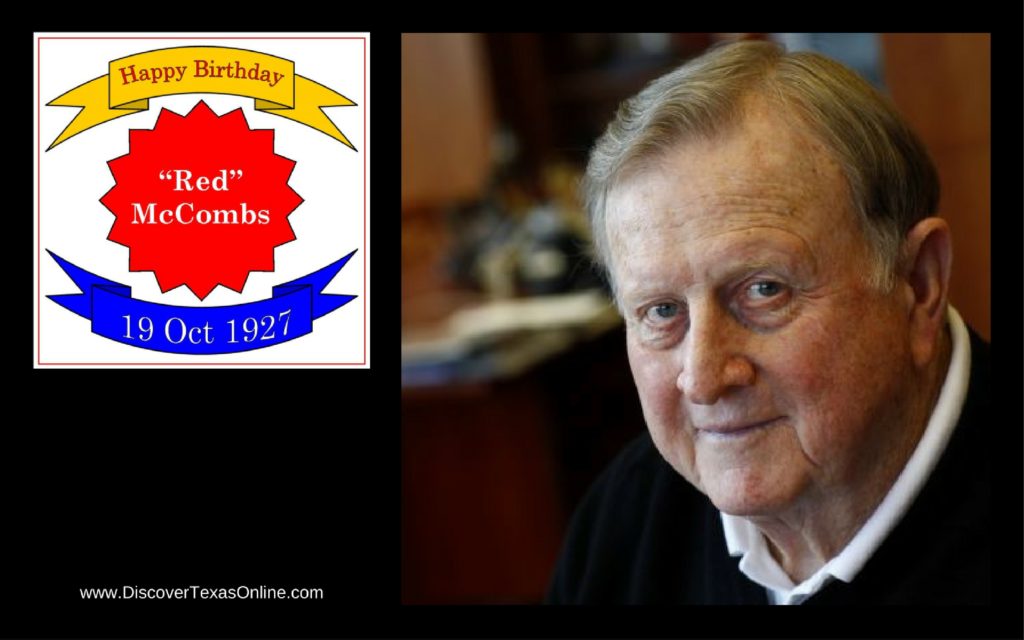 As I've prepared this Happy Birthday series, I've realized that all babies come into the world just about equal. They all have a mama and a papa. The majority of babies weigh less than 10 lbs., and they're all pretty much helpless.
Sure, there are some areas of inequality. Some are bright and inquisitive while others come into the world with mental or physical challenges. Some have parents who love and care for them while others must make their own way to some degree. Some are born to privilege while others struggle against hardships. But I've found that these inequalities rarely determine a child's destiny. The presence of every blessing doesn't assure greatness, nor do challenges necessarily become limitations. Sometimes hardship actually seems to become an inspiration. Life is really what you make of it.
Only God knows what each child may grow up to be.
With that in mind, I'd like to wish a very happy birthday to Billy Joe "Red" McCombs!
Born in the tiny Panhandle town of Spur, Texas on October 19, 1927, "Red" McCombs grew to be a giant–in business, anyway…and in giving. You'd have to look a along time to find a man more generous with his money than Red McCombs. Here's the funny thing, though. I don't believe that Red McCombs gives because he's rich. I'm pretty sure that Mr. McCombs got rich because he loves to give!
His daddy was an auto mechanic who pulled in about $25 a week–not bad, for the day, but certainly not a fortune, either. Nevertheless, Red grew up watching his father faithfully give a tenth of his earnings each week to the First Baptist Church there in Spur. He saw his parents share "with those who had less, and the joy of giving never ceased to amaze me."
Like many boys his age, McCombs' college education was interrupted by military service. When he finished his hitch, he enrolled in the University of Texas to study business and law, but a friend in Corpus Christi challenged him to sell automobiles. He was a natural salesman, and by the time he was 25 he owned his first dealership. In 1958 he and a partner opened the Hemphill-McCombs Ford dealership in San Antonio. This later became the Red McCombs Automotive Group, which made its owner a billionaire–$1.4 billion, in fact (estimated net worth in 2012). He was not only named to the Forbes 400 list of the richest Americans, but is ranked as the 913th richest man in the world!
Obviously, McCombs has a good head for business. He didn't stop with one success, but went on to invest his capital to become co-founder of Clear Channel Communications, chairman of the Constellis Group, and owner (by turns) of the San Antonio Spurs, the Denver Nuggets, and the Minnesota Vikings.
It's not his wealth, though, that impresses me. It's his generosity. Though he never actually completed his degree, his donations to his alma matter prompted the University of Texas to name the McCombs School of Business after him. He is also an influential member of the Alamo Endowment Board, raising funds for the preservation of the historic Alamo Mission and overseeing its future development and expansion. The McCombs Foundation, operated under the frugal oversight of his daughters, has donated more than $118 million to charity through both large and small donations. Their giving is rarely publicized, though. Like his father, McCombs says he gives because "it makes me feel so good about doing it."