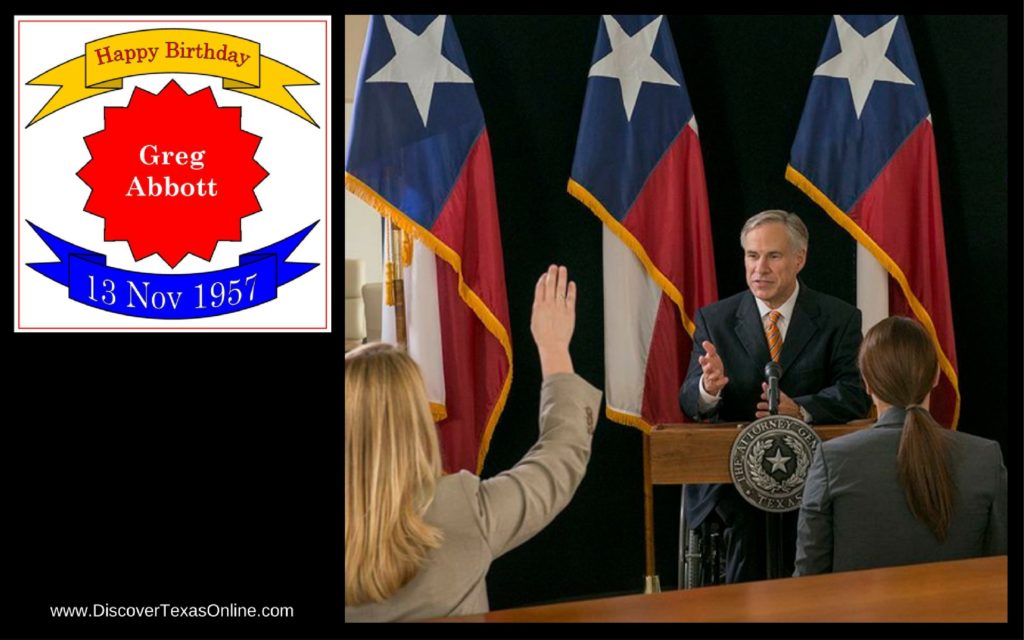 Texas Governor Greg Abbott was born in Witchita Falls, Texas on November 13, 1957. His life story is one of overcoming obstacles and embracing the unexpected.
When Greg was six years old his father, who was a stockbroker and insurance agent, moved the family to Longview. Six years later, they moved to Duncanville. Life was comfortable enough that his mother could work at home with her children, but during Greg's sophomore year in high school his father died of a heart attack. To support her family, his mother found work at a real estate office. Through what was surely a sad and difficult adjustment, Greg continued to run track in high school and won every event he entered during his senior year. An excellent student, he was inducted into the National Honor Society, and his classmates voted him "Most Likely to Succeed."
Succeed he did! He earned a degree in Business Administration/Finance from the University of Texas in Austin, where he met his future wife, Cecilia. Abbott has likened their marriage to the founding of Texas, itself, since his Anglo heritage was united with Cecilia's Hispanic heritage. The young couple headed for Nashville, where Abbott graduated with a juris doctorate (law degree) from Vanderbilt University three years later.
He landed a position with a private practice law firm back in Texas. Life looked promising…until an oak tree fell on him as he was jogging after a storm, paralyzing his legs. Abbott was faced with another serious obstacle as he worked to regain his health and mobility, but again he chose to persevere. The accident ended neither his life nor his career. Instead, Abbott went on to serve as a justice on the Texas Supreme Court and as Attorney General of the State of Texas–qualifications that make him an excellent fit for the office of governor.