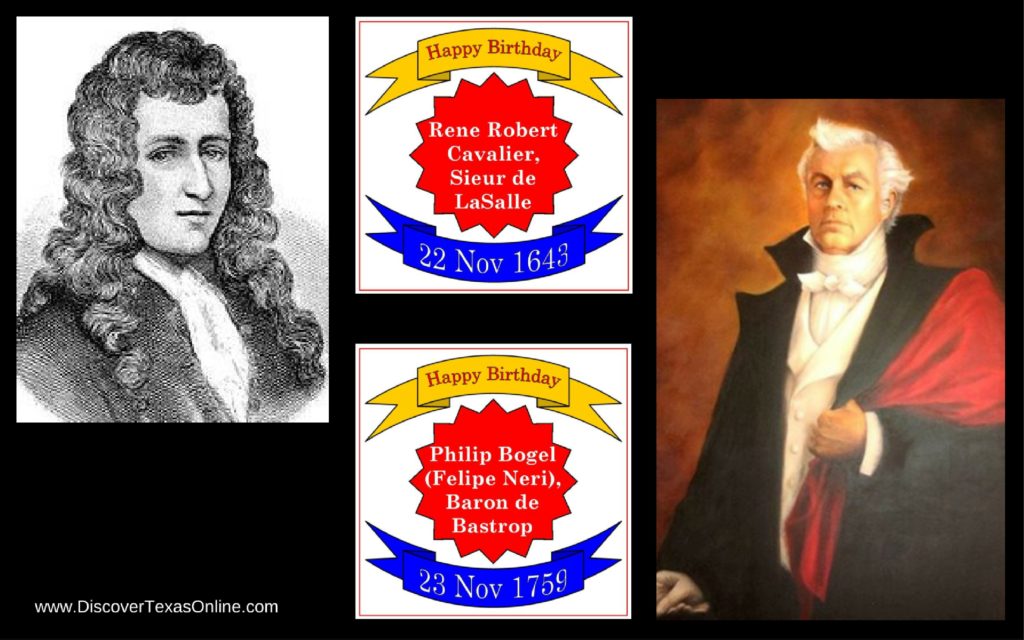 Some people in Texas' history (okay…maybe several of them) are more than a little quirky and hard to figure out. Today we celebrate the upcoming birthdays of two examples:
Rene Robert Cavalier, Sieur de LaSalle, was born on November 22, 1643 in Rouen, France. Like many boys in that time and place, he studied at a Jesuit monastery, and when he was 17 he initiated the process to become a Jesuit priest himself. As part of that process, he was required to revoke his father's inheritance…and then, for reasons we can't quite explain, he changed his mind. But he could not change his fortune. He was penniless when he left for New France (Canada). He had a brother there, and he hoped to become a colonist. He set to work learning Indian languages and learning the rivers of the region. Most colonists made their living by trapping and shipping furs back to Europe to sell, but the frigid northern rivers were a severe challenge to shipping. If he could find a river route south, perhaps the larger ships could carry French furs from a navigable port on the southern end.
LaSalle explored the Mississippi River from the north and claimed all the land it drained for France. Then he launched an expedition to find its mouth in the Gulf of Mexico in hopes of building a fortified port colony there. LaSalle left France with four ships and 300 colonists, but he was not a strong leader, and his venture was plagued by misfortune. They were beset by pirates and hostile Indians, and a navigational error ran them aground in Texas, many miles west of the Mississippi delta.
LaSalle did succeed in founding Fort Saint Louis on Garcitas Creek (near the present town of Victoria). Not realizing how far he was from his intended destination, he hoped to establish the families in his charge there while he explored for the Mississippi. The result was disastrous. LaSalle was killed by his own men, and Fort Saint Louis was attacked and burned by hostile Indians.
The Baron de Bastrop was born on November 23, 1759 in Paramaribo, Dutch Guiana. His parents named him Philip Hendrik Nering Bögel. The family moved back to Holland when Philip was about 5, and that's where he grew up. He enlisted in the cavalry, married, and had five children. Eventually he was appointed tax collector for the province of Friesland, but in his early 30s he was accused of embezzlement (stealing from the tax money he was supposed to turn over to the government). Did he really do it? We don't know, but with a reward of 1000 gold ducats on his head, Philip Bögel ran!
We find him again in Spanish Louisiana using the name "Felipe Neri" and claiming to be a Dutch nobleman–the Baron de Bastrop.
When the United States purchased the Louisiana Territory in 1803, Bastrop moved to Texas and received permission to establish a colony between Bexar (San Antonio) and the Trinity River. Three years later he settled in San Antonio, opened a freighting business, and began to use his natural charm to build an influential reputation with neighbors and officials alike. In 1810 he was appointed alcalde (mayor) of Bexar. When Moses Austin came to Texas in 1820 seeking permission to establish an Anglo colony, it was the Baron de Bastrop who used his influence to convince Governor Martinez to grant approval. When Moses Austin died and his son Stephen F. Austin undertook to settle the colony for him, Bastrop advised the younger Austin, lent his assistance, and served as a go-between with Mexican officials. Indeed the Baron de Bastrop was so popular that settlers chose him as their representative to the legislature of the new state of Coahuila y Tejas. His meager salary was paid by contributions from his grateful constituents…who likely never suspected that was all he had. When the Baron de Bastrop died, he did not even have enough money to pay for his own burial.
In one of the stranger twists of irony in a history where strange occurrences were rather normal, the towns of Bastrop, Louisiana and Bastrop, Texas and Bastrop County are named after a man who never really existed.