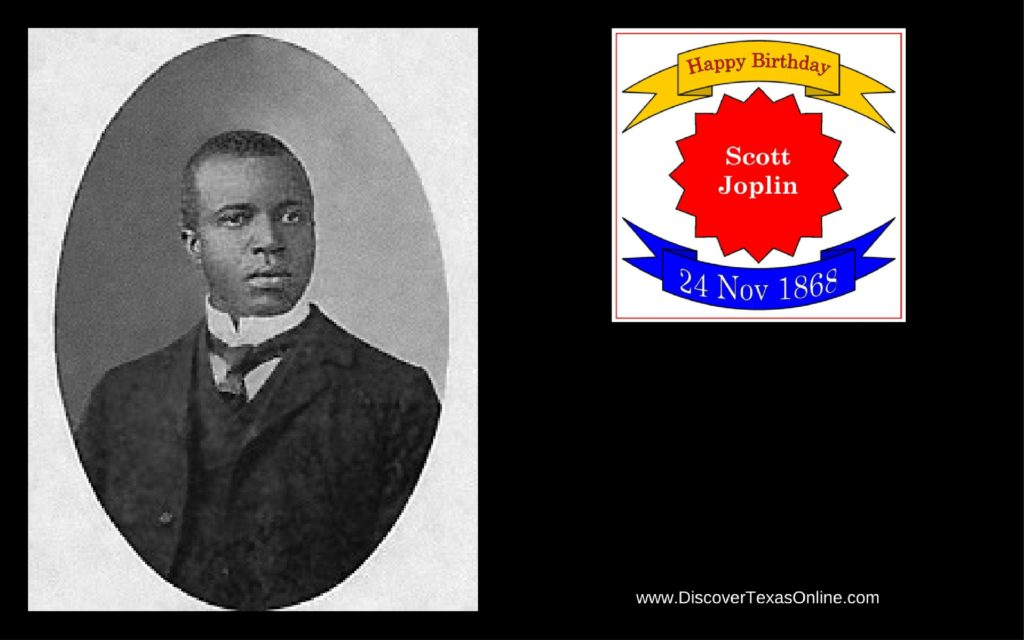 Scott Joplin, "King of Ragtime," was born on November 24, 1867 (or 1868) in northeast Texas. His father worked on the railroad, but the whole family was musical. Scott's father used to play the violin for plantation parties back in North Carolina, and his mother sang and played banjo. As Scott was growing up in Texarkana, his mother recognized his special talent and saw to it that he received music lessons, though his father was adamant that the boy's time would be better spent working to help the family make ends meet. Giles Joplin abandoned his family when Scott was a young teenager, leaving his mother to support six children by cleaning houses. But she was dedicated to finding a way to continue his lessons, and young Scott was a serious student with ambition. He often accompanied his mother to practice piano after school while she cleaned. Recognizing the boy's talent Julius Weiss, a German-born music teacher, offered to teach Scott free of charge. Weiss helped the family acquire a piano of their own and introduced his young student to both folk and classical music, including opera.
When he was 16, Scott Joplin formed a vocal quartet with three other local boys and also taught guitar and mandolin. He was beginning to see himself as a professional musician–an artist as well as an entertainer. He also worked as a laborer for the railroad, like his father had, but around the time he was 20 he gave it up to become a traveling musician. Joplin liked to play "jig-piano," from which he developed his unique ragtime style. Sadly, though, at that time there were not many opportunities for black pianists. He could get work in churches and in saloons and brothels, but there weren't many jobs available to him in between. He visit Chicago in 1893 and played for tourists visiting the World's Fair. Visitors to Chicago loved the new sounds, and by 1897 ragtime was a national craze–new sounds for a new century. Joplin returned to teaching African-American students. Teaching paid the rent and kept him fed, but on the side Joplin composed.
"Maple Leaf Rag" was his first hit. (You'll find a video of it below, played by Scott Joplin, himself.) When "Maple Leaf Rag" was published as sheet music in 1899, people began to pay attention to the name and talent of Scott Joplin. Now he had a steady income for life as an artist, but sustained success was elusive. Joplin continued to struggle financially. He continued to write, to grow, and to experiment for the next 18 years. Though he died young, Scott Joplin wrote 44 original ragtime tunes, one ragtime ballet, and two operas.
Scott Joplin was buried in an unmarked pauper's grave, but his story does not end there.
Ragtime–and Scott Joplin–were rediscovered in the early 1970s and celebrated in the movie The Sting, which featured several of Joplin's compositions including "The Entertainer." Joplin's opera Treemonisha was finally produced in 1972, and in 1974 The Sting received an Academy Award. In that same year, Scott Joplin's grave finally received a marker. In 1976 Joplin was awarded a posthumous Pulitzer Prize.