A LOT of famous Texans were born toward the end of November and the first of December, so we'll have to double up a bit to get them all in. (Having "too many heroes" isn't really a bad thing though, eh?)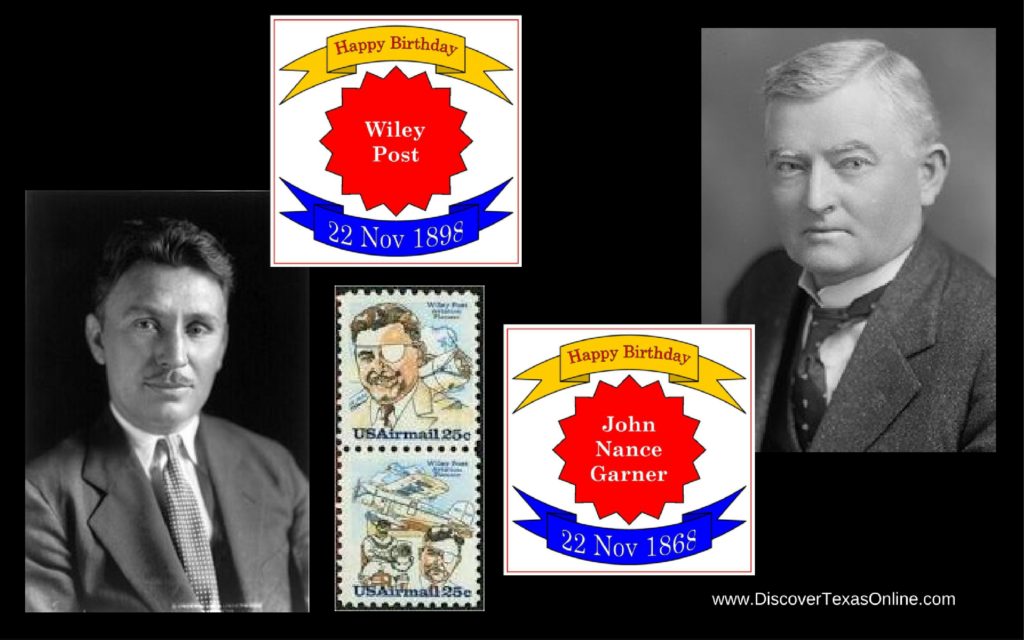 John Nance Garner IV (known to his friends as "Cactus Jack" because he lobbied for the prickly pear cactus to be Texas' state flower instead of the bluebonnet) was born in Detroit–not the big Detroit in Michigan, but the tiny village of Detroit in northeast Texas–on November 22, 1868. From those humble beginnings he made it as far as Vanderbilt University in Nashville, Tennessee where he studied for one semester before dropping out. In those days, though, you could study law on your own, and that's what Garner did. He took his bar exam, was admitted in 1890, and set up a law practice in Uvalde, Texas. In 1893 he ran for county judge and was opposed in the primary by a woman–Mariette Rheiner. You might say he won twice, because he won not only the election but his opponent's heart. They were married two years later.
From this beginning, Garner was elected to the Texas House of Representatives in 1898 and again in 1900. One of the most significant measures Garner voted for was a poll tax–a law Texas Democrats favored to make people pay for the privilege of voting. The law passed, assuring that Texas would be governed by the Democratic Party for more than half a century because black and poor citizens could not pay the tax to vote against them.
In 1902 Garner was elected to the United States House of Representatives, where he served fifteen terms and eventually became Speaker of the House. In 1932, he threw his hat in the ring to be considered for the Democratic Presidential nomination. Franklin D. Roosevelt, then governor of New York, had a better chance of winning but lacked enough votes to secure the nomination, so Garner approached him with a deal. Roosevelt would run for president with John Nance Garner as his vice-president. Since Garner won re-election to the House of Representatives on the same day that Roosevelt was elected President of the United States, he was for a time both the Speaker of the House and the President of the Senate.
Garner found the office of vice-president not much to his liking. FDR was a powerful man, and Garner had some rather impolite ways of voicing his frustration at his lack of power in the #2 position. The two men, who had previously gotten along well, began to clash on many issues. FDR was pushing his "New Deal" to end the Great Depression. Garner was uncomfortable with the federal debt FDR was amassing. He also favored federal intervention to end an auto workers' strike, but FDR sided with the unions. The last straw came in 1937 when FDR, angry that the Supreme Court had ruled several of his proposals unconstitutional, attempted to pack the Supreme Court with several additional judges who would be more likely to run things his way. As a former legislator, Garner opposed FDR's heavy-handed interference with the judicial body and with Congress and openly opposed him to defeat the measure.
Many conservative Democrats agreed with him and urged Garner to run for President when Roosevelt completed his second term. They saw in Garner "a hickory conservative…moneymaking, industrial, hardboiled" who would stand for "oil derricks, sheriffs who use airplanes, prairie skyscrapers, mechanized farms, [and] $100 Stetson hats." In other words, they saw him as progressive and unafraid of innovation. But union leaders opposed him as "a labor-baiting, poker-playing, whiskey-drinking, evil old man"…which may have been partially true except for the part about being evil. Garner declared his candidacy, but in a surprise move Roosevelt called on friends to arrange a "spontaneous" call for his renomination to a third term…and this time he chose a different running mate.
FDR went on to win his third and then a fourth presidential election before dying in office in 1945. John Nance Garner returned to Uvalde, retired from politics, and enjoyed  managing his real estate, fishing, and playing with his grandchildren and great-grandchildren until he died in 1967 just two weeks before his 99th birthday–the longest-living vice-president or president in history. If you are ever in Uvalde, you might want to visit the museum there that honors him.
Another Texan who shares this birthday may be not so much a hero as a scalawag.
Wiley Hardeman Post was born November 22, 1898 in Grand Saline, Texas. His parents were cotton farmers who moved to Oklahoma just before Wiley began school. He was not a good student, and only completed the 6th grade before dropping out, but then he saw something that made him want to learn! When he was 15 or 16, Wiley saw an airplane demonstrated at the county fair and was so inspired that he signed up for flying lessons. Of course flying was a dangerous hobby back then, not an occupation that would put food on the table. Wiley held several jobs–construction worker, oilfield roughneck. When World War I broke out he signed up to be a pilot in the U.S. Army Air Service, but the Army trained him instead for radio technology, and the war ended before he ever completed training. Work back in the oilfields was unsteady, so Wiley turned briefly to stealing cars. Arrested at 23, he served 14 months of a 10-year prison sentence before being paroled. Like I said…scalawag.
A short time later, Post found work flying…sort of. He signed up with a flying circus, "barnstormers", to jump out of airplanes with a parachute. It wasn't full-time–he still had his job in the oil fields–but his flying career was airborne. Then in 1926 he lost his left eye in an oil field accident. The company paid him a settlement, and he used it to buy his first aircraft. At about the same time he met cowboy comedian, actor, and media personality Will Rogers, and the two became good friends. (Will comes into Wiley's story often.) Post became the personal pilot to a couple of wealthy Oklahoma oilmen, an in 1930 one of them bought an airplane that was state-of-the-art at the time. He named it the Winnie Mae after his daughter, and it was in this plane that Post gained national attention by winning an air race across the country from Los Angeles to Chicago in 9 hours, 8 minutes, and 2 seconds. The next year, Post and his navigator, Harold Gatty, set their sights on a flight around the world. This had never been done in an airplane before. Wiley Post made the flight in 8 days, 15 hours, and 51 minutes. This was a very big deal! Post and Gatty were welcomed by the President and had lunch at the White House. A ticker-tape parade was held in their honor in New York City, followed by a banquet at the Hotel Astor. Post and Gatty wrote a book about their adventure, and Will Rogers wrote the introduction. They were famous! Post repeated the trip in 1933, flying solo this time. He broke his previous time record and 50,000 people showed up to greet him as he landed.
Wiley Post began to experiment, testing the limits of high-altitude flights, and the need for a pressurized suit soon became obvious. Post helped to develop one. In his first flight testing the suit, he reached an altitude of 40,000 feet. When he eventually reached 50,000 feet, Post discovered jet streams–fast-flowing rivers of air in the Earth's atmosphere. Using these swift air currents, he attempted four times to make a high altitude non-stop transcontinental flight from Los Angeles to New York City. None of these attempts were successful, but the idea of using airplanes to deliver Air Mail was within reach.
In August 1935, Wiley's friend Will Rogers asked him to fly him to Alaska on a research trip. They used a hybrid aircraft with experimental floats that would let them make water landings. Encountering bad weather, they put down in a lagoon to check their location. Sadly, when they attempted to take off again, the engine failed and the heavy floats caused them to plunge back into the lagoon. Both men were killed instantly. Two monuments at the crash site, listed on the National Register of Historic Places, commemorate them, as does the Wiley Post-Will Rogers Memorial Airport in Barrow, Alaska. Oklahoma City, capital of the home state of both men, has two airports–one named for Will Rogers, and the other named for Wiley Post.
In 1979, the U.S. Postal Service honored Post with two airmail stamps.