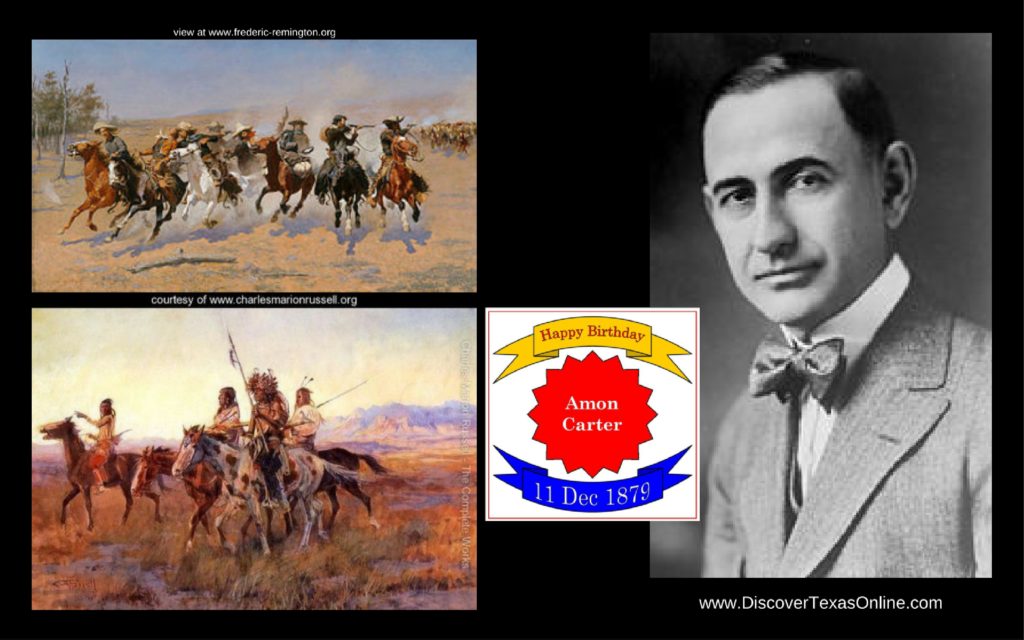 As I've researched a number of famous people for this year's Happy Birthday series, I've discovered something:
Attitude is everything! 🙂
If you've ever wished someone would share with you the secret recipe for riches and success, a grateful and confident attitude is definitely one of the main ingredients…and ANYONE can develop an attitude of gratitude!
Many famous and wealthy businessmen and philanthropists rose from extremely difficult circumstances. They learned to focus on what they had rather than what they lacked. They had a knack for recognizing opportunities and accepting a certain amount of risk. They worked hard to overcome obstacles. And they never forgot where they came from.
Whether you think of that as an American work ethic or Texas gumption, Amon Carter fit the description to a capital "T" for Texan!
Giles Amon Carter was born on December 11, 1879 in Crafton, Texas. (I had to look that up. It was pretty much "Nowhereville" out in the sticks, then and now.) His parents were chicken breeders. Mrs. Carter died in 1892. Though Amon was only 12 years old, he moved up the road to Bowie, Texas, supporting himself with odd jobs. Little is written about the circumstances except that he felt the need to help his family financially by leaving and that he later changed his name from Giles Amon to Amon G.. Since he later named his son "Amon Gary, Jr." and took to calling himself "Amon G., Sr.", we might wonder if he dropped the name "Giles" for the same reason he left home. To my knowledge, he never said. Amon Carter wasn't the sort of man to dwell on unpleasantness or on the past.
One of the jobs he found was waiting tables and washing dishes at a boarding house. When he wasn't working there, he sold "chicken and bread" sandwiches to passengers at the train depot. Because "eating and living indoors" depended on his success as a salesman, Amon learned what would sell, and where and how to sell it!
Advertising jobs took him to California and Oklahoma, but by 1905 he was back in Fort Worth, selling advertising space for the newly founded Fort Worth Star newspaper. Amon was very good at what he did, but not good enough to keep the fledgling newspaper from falling on hard times. Bankruptcy loomed…but instead of folding, Amon proposed a gutsy solution. The Star raised $100,000 (big money in that day!) and Amon orchestrated the purchase of their largest competitor, the Fort Worth Telegram, in 1909 to become the Fort Worth Star-Telegram. In 1922, he had the opportunity to expand on his experience in communications and marketing by founding WBAP–Fort Worth's first radio station, and in 1923 he became the publisher and president of the Star-Telegram. When WBAP opened its first television station in the South and Southwest in 1948 (now KXAS), Carter's communications and marketing empire was complete.
When oil was discovered in the Permian Basin, Amon Carter was in a financial position to invest. The first 90 wells he financed came up dry…but the next one didn't! I think that's important. Like when the Fort Worth Star fell on hard times, Carter never stopped believing that the opportunity was there. He never stopped working toward a successful outcome.
Amon Carter loved the great Southwest, and he loved Fort Worth–the town where the West begins. He had always had a knack for befriending people–from the everyday folks who worked for him to more recognizable figures like presidents, corporate heads, and popular entertainers like Will Rogers. He loved them all and made them feel important, and they loved him right back. He sang the praises of Texas and Fort Worth and attracted many large businesses to the region: Texas Tech University, Lockheed-Martin, General Motors, General Dynamics, Bell Helicopter, American Airlines.
Carter also collected Southwestern art and was especially fond of Frederic Remington and Charles Marion Russell. His collected works formed the foundation of the Amon G. Carter Museum of American Art, which makes a wonderful field trip!