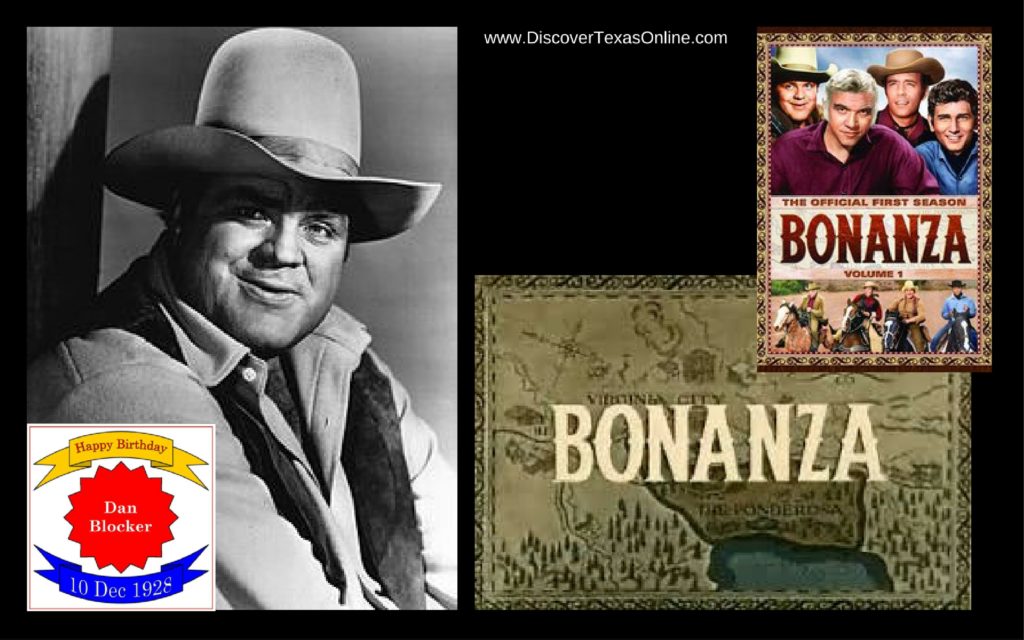 Dan Blocker was born on December 10, 1928 in DeKalb in northeastern Texas, but the family soon moved to O'Donnell, Texas in the northwestern Panhandle where they opened a store. As a boy Dan attended Texas Military Institute in southeastern San Antonio, then college at Hardin-Simmons University in Abilene and Sul Ross State Teacher's College in southwestern Alpine where he played football and earned a master's degree in drama. When he graduated, he'd pretty much lived all over Texas, and those who knew him said he had a heart and a laugh as big as Texas, too.
Blocker worked for a while as a high school English and Drama teacher. He also worked as a rodeo performer and as a "bouncer". At 6′-4″ and 300 lbs., he was intimidating to say the least.
He was heroic, too. Drafted into the Army during the Korean War, Blocker earned a Purple Heart for wounds received in combat as well as a number of others including a National Defense Service Medal, Republic of Korea Presidential Unit Citation, United Nations Service Medal, and Combat Infantryman Badge.
When he returned home in 1957, Blocker began to act professionally. He was cast in several bit parts and landed roles in several movies and television shows, but his real break came when he was chosen to portray the character of "Hoss" Cartwright on the popular television series, Bonanza. Tragically, Blocker died in 1972 of complications following a rather routine surgery. He was 43. Bonanza lasted one more season, but the show just wasn't the same without "Hoss."
If you're ever in O'Donnell, Texas, you might enjoy visiting the "Dan Blocker Room" at the O'Donnell Heritage Museum.
You can watch episodes of Bonanza (like this one) on YouTube. (Notice that the average length of a one-hour episode in the 1960s was over 50 minutes. Just 10 minutes of commercials!)