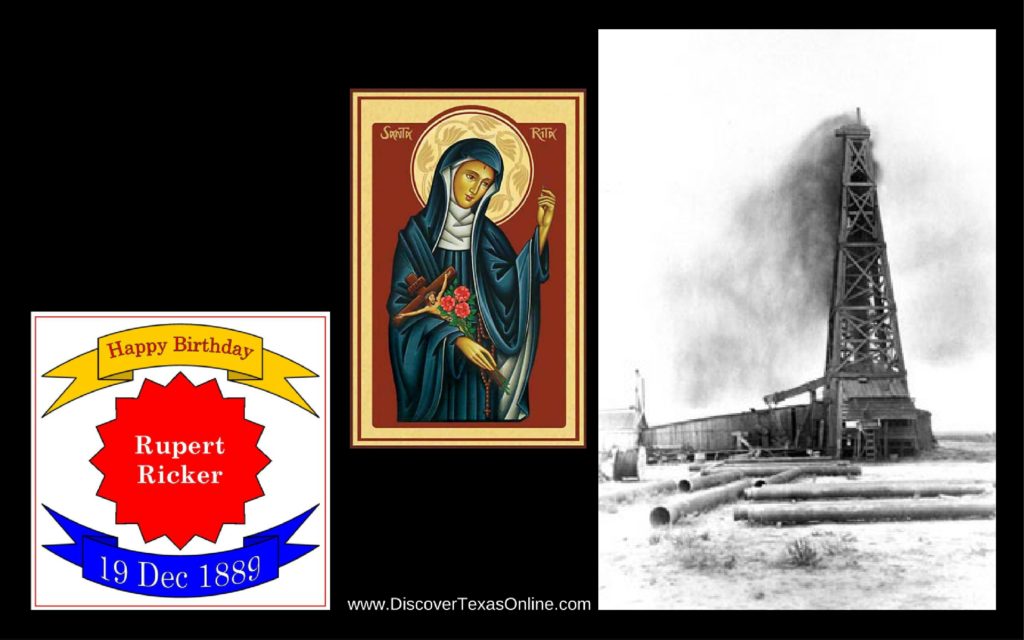 Rupert Paul Ricker was born on December 19, 1889 near Corsicana, Texas. When he was about 17, his father decided to try his hand at ranching and moved the family west by covered wagon…but ranching is a hard business. Their best attempts didn't work out, so the Rickers moved again–this time to Big Spring where both Rupert and his father found work with the Texas and Pacific Railway until Rupert left to attend the University of Texas at Austin. He graduated with a degree in law, served a hitch in the army during World War I, then returned to Reagan County to open a law office and live on the family ranch.
While he was at the University of Texas, Ricker encountered men who were doing geological research in West Texas. They believed there was a large oil field underlying the region. Ricker agreed. In 1919 he found a partner and obtained leases to over 400,000 acres of land owned by the university. He gathered maps and data and got his drilling permits in order, but he had trouble finding anyone who would invest in the project until he met an old army friend, Frank Pickerell, who was looking for oil investments. Ricker sold his rights to Pickerell for $2500. It was Pickerell who drilled the first oil well in the oil-rich Permian Basin–the Santa Rita #1–named for Saint Rita of Cascia, patron saint of hopeless causes. It took over four years, but the dream of finding oil in the Texas panhandle turned out not to be so hopeless, after all!
Ricker formed other partnerships–some successful, some not, but he continued to speculate in Texas oil even as he continued his law practice…and as a religious man, we may surmise that he continued to pray!
This story interests me because my grandfather was one of the drillers on the Santa Rita oil well in 1921. According to family stories, he was on the job one day when the drill bit got hung up. The job boss was fuming with frustration! The friction of metal on rock caused the drill bits to build up quite a bit of heat. It would be three days before the bit cooled down enough for an engineer to work on it. Three days of delay. Three days of lost labor. My grandfather asked what the boss would pay if he could fix the bit that same day. The man scoffed, but named a good price–maybe a bit too good, since he didn't believe the job could be done. My grandfather then asked them to bring hoses and direct a flow of water down the drill. When the metal quit steaming, he went in and was able to fix the problem. When he gave the sign, they hauled him out, and he stuck out his hand to receive his pay. Then he got cleaned up and caught the first train he could to Giddings, Texas where he bought a ring and asked my grandmother to marry him!
I have no way of verifying the details of that story, but it definitely sounds like him, and the timing would be just about right! 🙂