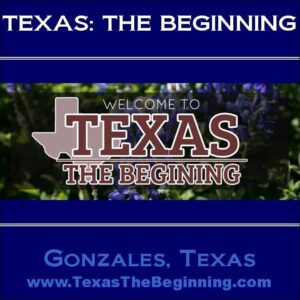 Texas: The Beginning is the brainchild of a small group of history buffs and influential businessmen who have come together to preserve the historical important of Gonzales as a prequel to the Alamo. They tell "the rest of the story", and it's a fascinating beginning, indeed! Please consider this field trip resource as a possible "Stay-cation" for your history-loving family! 🙂
Gonzales became "the Lexington of Texas" when a militia of 18 men faced down 100 Mexican soldiers ordered to disarm them, thrusting the tiny town to the forefront of a revolution. Gonzales was the Birthplace of Texas Independence. A few months later, "the Immortal 32"–a relief force of armed citizens–answered Travis' plea for volunteers to defend the Alamo, and after the tragic end of that battle, Santa Anna sent newly widowed Alamo survivor Susanna Dickinson back to her hometown of Gonzales to warn Sam Houston's forces who had gathered there.
Texas: The Beginning offers families a personalized, immersive field trip experience.
You arrive the evening before your tour and check into the historic Alcalde Hotel where friendly hosts will welcome you to your 2-night stay in cattle barron style luxury. You can explore the town or just relax in the fully appointed rooms.
Rest up, because tour day starts with a complementary breakfast and orientation at 8 am. By 9:30 you'll be off with a specially trained guide who will show you where history happened. From the settlers of Pioneer Village to the Come and Take It battlefield, children will enjoy getting their hands on actual artifacts and collecting stamps on their Texas History Passport. The tour ends with an rustic chuckwagon supper complete with a songs and stories around a bonfire.
Summer is a perfect time to take some of those Texas history field trips you didn't have time for during the busy school year. Book now! There are several dates available, but don't hesitate to inquire if you have special needs.