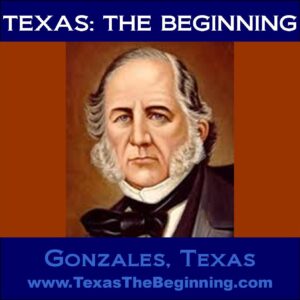 Since the first shot of the Texas Revolution was fired in Gonzales, Texas, it is perhaps fitting that it was also in Gonzales, Texas that Sam Houston gathered his army.
After the Convention of 1836 declared Texas independent at Washington-on-the-Brazos, they appointed Houston Major General of the Texas Republican Army. Houston arrived in Gonzales on March 11, 1836 to organize his volunteers and began by giving a speech at DeWitt's Tavern. (DeWitt, of course, was not there. He died the previous year while on business in Mexico.) He sent Erastus "Deaf" Smith with a team of scouts to find what news they could of the Alamo and Bexar. Smith returned late on March 12 with Susanna Dickinson and several other women and children who had survived the battle. Susanna Dickinson carried a letter of warning from Santa Anna, himself, and their accounts of the gruesome battle struck fear, grief, and anger in the Texian's hearts.
Since it was clear that Santa Anna would pursue the Texians to Gonzales, Houston had the town burned to the ground so that there would be nothing left to resupply the Mexican army. Many of the settlers were already heading for the eastern border with everything they could carry in the "Runaway Scrape." As Gonzales smoldered, Houston met with his volunteers under the Sam Houston Oak just outside of town on land that would become the farm of Charles Brachas roughly 7 years later. There they strategized their "retreat" to San Jacinto and victory.