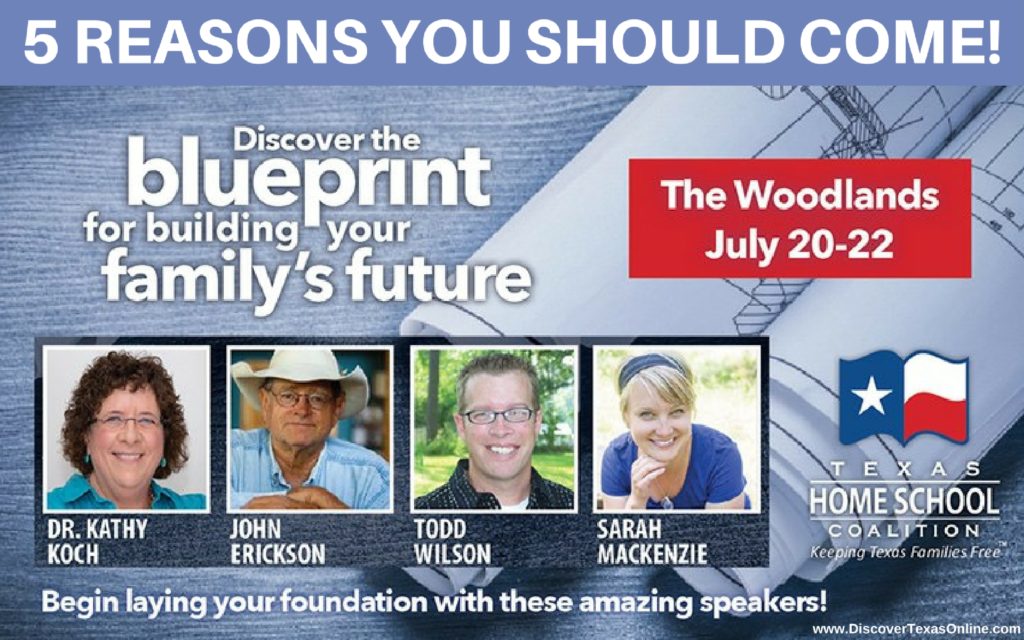 We love book fairs!
Why? (I mean, we understand that there are other ways to get the information and curriculum you need to homeschool in Texas…)
Let me count the ways!
Nowhere else can you see such a wide assortment of teaching materials all in one place! The first time I walked into a homeschool exhibition, my mind almost exploded with all the possibilities.
You get to take products you're considering for a "test drive." Check out the scope and sequence. Flip through the pages. See for yourself if they're right for your child.
You also get to talk directly to exhibitors…who often created the product! I know I love talking to homeschool families about why I wrote Discover Texas and how it took the boredom out of history and turned it into an adventure that was meaningful, memorable, and fun. You'll meet other homeschool gurus who can answer (almost) all your questions and get you excited about your next year.
You'll hear and meet homeschool experts in person. I may not mean what you think I mean here. Yes, if you're a Steve Demme or Mary James fan you can meet them in person, BUT when you do you'll realize that they're real people just like you! There is no one "magic formula" for parenting or homeschooling that makes some people instant successes while others struggle with burnout. We've ALL been in the trenches where you are now and lived to tell about what worked and what we wish we'd known before. That, to me, is encouraging!
You'll be in the company of like-minded families–people who love their children and are willing to make deliberate sacrificial choices to give them a great start in life. Over 25 years of annual book fairs, we've made friends with some of these wonderful families and look forward to catching up with them at conventions like some people look forward to Christmas cards. Even the ones I don't know encourage me simply by being there. In a world that's often full of discouragement and bad news, these people still care about the things we care about.
So if you haven't already, please plan to attend the THSC Woodlands Convention July 20-22. It's free for THSC members, and definitely worth it at any price. All you have to do is register!