This series of posts addresses the rationale behind my Homeschool How-To course How to Make Learning Meaningful, Memorable, and FUN! . . . coming in September. The first Homeschool How-To course How to Teach the Way Your Child Learns is available NOW! 🙂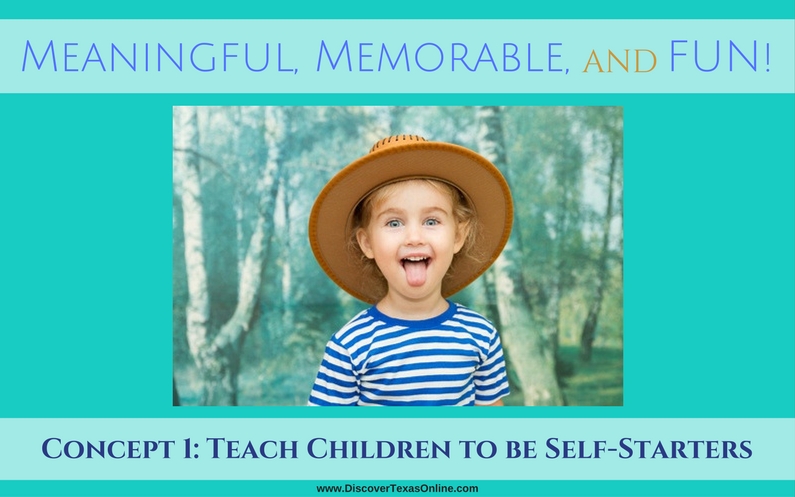 What do you do with a child who complains of being bored?
Give them something to do!
What do you do with a child who CONSTANTLY complains of being bored?
Help them learn to FIND something to do!
Learning to be a self-starter is a valuable skill to carry into adulthood. One of the most frequent complaints of employers is that some employees stand around waiting to be told what to do. They seem unable to look around them and find something that needs to be done, much less suggest ideas and projects that might be done to benefit the company.
You can give your children a leg up here by teaching them to be self-starters. At the same time, you'll be making your own job easier by making their educational journey more purposeful and enjoyable to them, as well. That's good news, eh?
Give your children a chance to launch their own education.
Include them in making curriculum choices. (Hint: You may need to pre-select options that are acceptable to you, first.)
Let them suggest topics they'd like to learn about. Even if you follow a regimented textbook approach, you might allow them to choose the topics for reports and research papers, suggest science fair experiments, choose their own sport or musical instrument, or help decide on the next field trip destination. The more they feel they have a choice, the more they will be willing to embrace the choice.
Gently convey to your children that your goal is to raise lifetime learners. Model curiosity and excitement, and show them how you go about learning new things. As with most things, intellectual curiosity is more likely to be caught than taught.
My grandma used to say, "An idle mind is the devil's workshop!" It's true. Children who are bored and unchallenged will do one of three things:
lose interest in doing anything constructive
find trouble
or find something constructive to do.
Here are some concrete suggestions that may help you help your children generate their own ideas:
Create a Natural Gifts Worksheet for each child. (You're welcome to copy and print the one below.) Knowing their natural gifts will provide clues to activities they will find interesting (and also explanations for why other activities may be frustrating).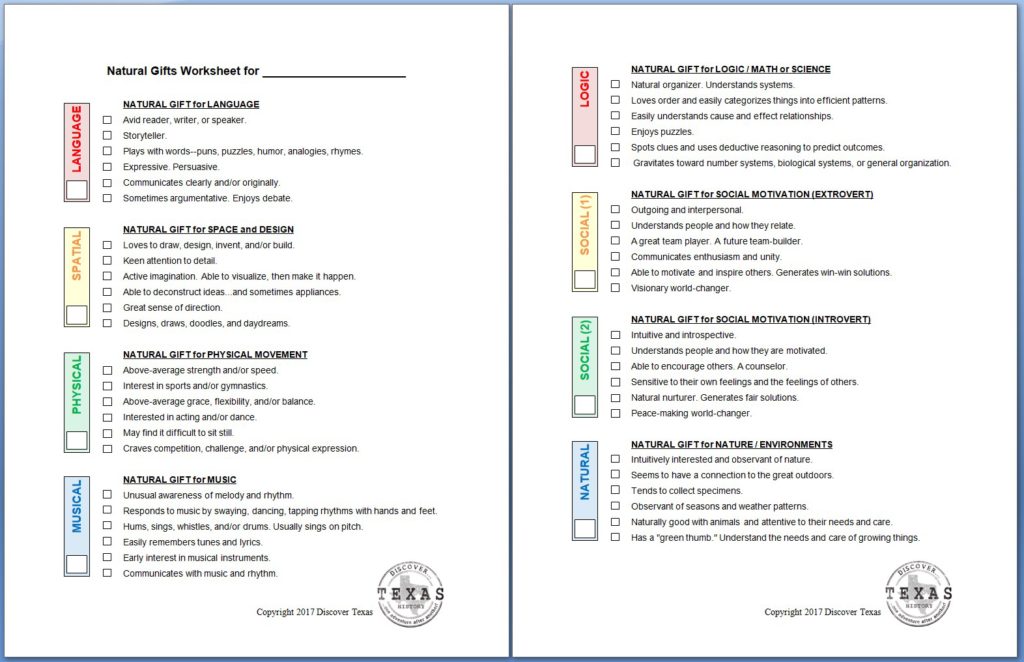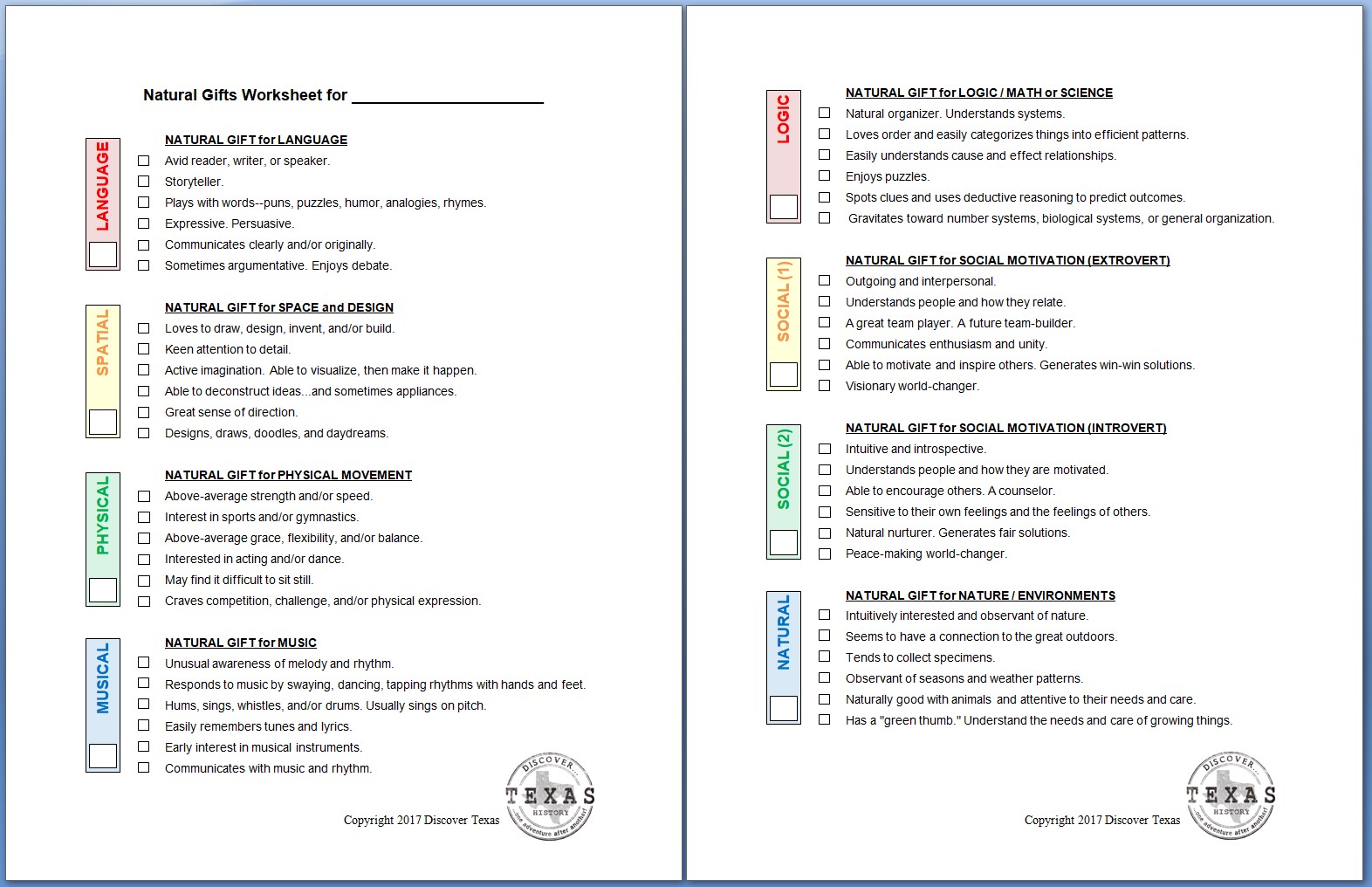 Introduce them to people who do interesting things. I'm always amazed by the things people do. Strew your children's paths with books or articles about inventors, travelers, deep thinkers, and people with unusual skills. Did you know George Washington became a surveyor while he was still a teenager? I know many homeschooled kids who have started their own businesses before they graduated. Maybe you know someone who forges metal armor, trains service dogs, or builds and flies remote-controlled airplanes or rockets. Many people play the guitar, violin, or piano (…and I know some who play amazingly well), but I know a young man who makes and plays his own ocarinas. I also know a few harpists and a bagpiper. Many people enjoy football, basketball, and baseball, but I know a young lady who is an ice dancer and a teen whose chosen sports were fencing and Jiu Jitsu. It's okay to be unique! When your children meet interesting people doing interesting things (in person or through books), the boundaries in their own minds expand beyond preconceived limits.
Encourage each child to start a list of Things I Like to Do. When they get bored or have free time, they can go to this list for ideas they've "suggested" to themselves. Parents can also use this list as inspiration. Are there activities and interests you can work into their assignments to make learning more fun?
Encourage each child to make a list of Things That Make Me Wonder. Teach them to open their eyes to the world around them. Asking good questions is a learned skill–one that will serve them all their lives. Any of the topics on their list could become a project or hobby. Who knows? They might discover a future career or lifelong passion!
Teach children to take interest in the world around them and sharpen their curiosity as they wonder how and why. This, by the way, is a higher level thinking skill.
As you gently teach your children how to wonder and plan, you're teaching them to become a lifelong learners!