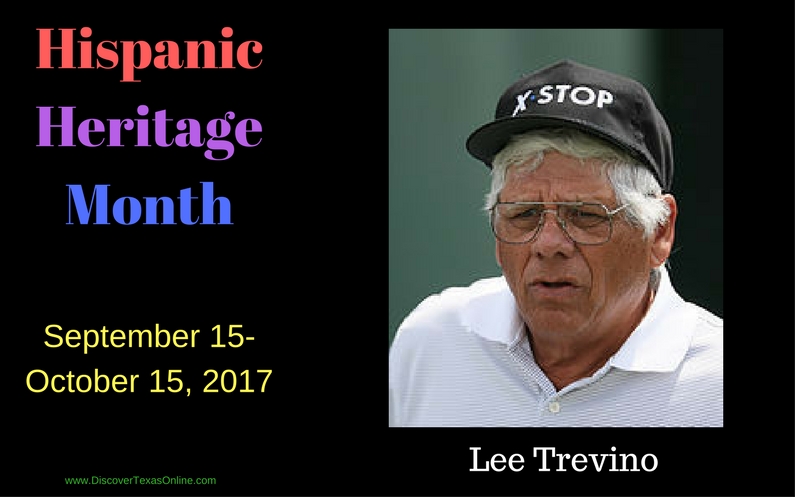 Lee Trevino was born in Garland, Texas on December 1, 1939 during the lingering days of the Great Depression. At a time when almost everyone was poor, the Trevinos were poorer. Lee never knew his father. He was raised by his mother and his grandfather, who worked as a gravedigger, in a small house without electricity or indoor plumbing. When he was only 5 Lee began to help earn money for his family by picking cotton. He became interested in golf after his uncle gave him an old golf club…and that simple gift changed his life.
At 8 he began caddying at the Glen Lakes Country Club near his home, earning $30 a week. He saw winning players earn a lot of money and was determined to be like them, so he dropped out of school in eighth grade to work at the driving range where he could practice hitting at least 300 balls every day after work. Because he was self-taught, his swing was something he made up himself…but it worked.
In December 1956 Lee turned 17 and enlisted in the Marine Corps. For four years he served as a machine gunner and worked his way up to the rank of Corporal. Even in the Marines he found time to play golf, and when he was discharged he settled in El Paso, Texas and turned pro. Other players, fooled by his unusual swing, became easy marks.
In 1968 Trevino won his first big title at the U.S. Open. In 1971 he became the first player to win the U.S., British, and Canadian Open championships in the same year. Lee Trevino, fondly dubbed "SuperMex", was inducted into the World Golf Hall of Fame in 1981, is remembered as one of the greatest professional golfers in the history of the game.