This series of posts addresses the rationale behind my Homeschool How-To course How to Make Learning Meaningful, Memorable, and FUN! . . . coming in September. The first Homeschool How-To course How to Teach the Way Your Child Learns is available NOW! 🙂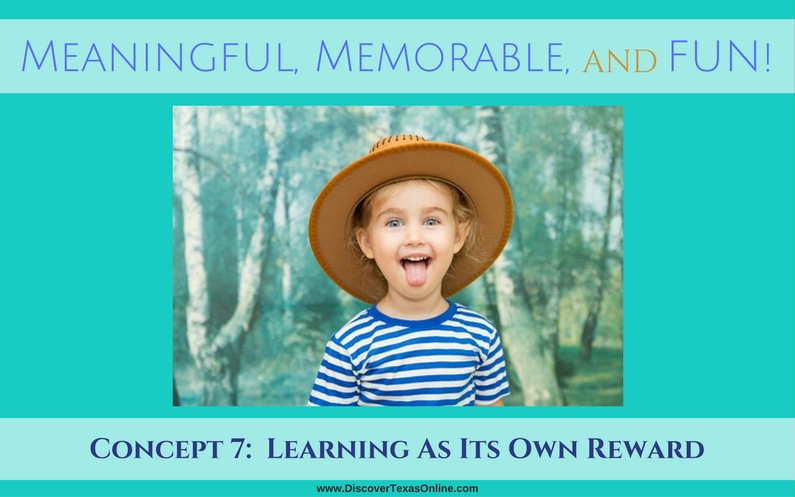 When I was a kid in public school, several of my classmates bragged that they got paid for making good grades on their report cards.
Since I usually made very good grades, that sounded like a pretty good deal to me, so I made up my mind to ask my parents to pay me for my report cards.
Wanna know how that worked out? 😉
I gathered my courage and asked my dad, who crushed my early entrepreneurial dreams by informing me that "learning is its own reward."
He was right…and if we can help children enjoy the process of learning, it will be easier for them to understand this concept.
When I speak on the concept that learning should be fun, some parents are tempted to tune me out.
They seem to think that learning can't be both fun and rigorous…or that it will take too much work to make lessons fun.
To this I say, "How does that effort compare to wearing yourself out trying to nag your children into completing their assignments? And how much do they learn when they resent every minute of the process?"
When learning is fun, it's easy for children to embrace learning as its own reward–and that's half the battle won.
I sometimes challenge parents who attend my seminars to name one thing they remember reading from a textbook. Of course, when we look back, we realize that we did, in fact, learn many things from our traditional textbooks. But do you remember anything, specifically, that you ever learned from a textbook? I don't, and in more than a dozen years of speaking, no parent has yet come up with any one fondly remembered lesson.
Then I ask them if they ever got to go on a field trip.
Hands fly up!
Did they ever make something special for show-and-tell? Do a big class project? Play in a band or sing in a choir? Take part in a theatrical presentation?
They can site plenty of vivid memories of those experiences.
When children go interesting places and participate in events, the things they learn in the process are memorable.
We remember our own experiences, our accomplishments, and our relationships.
Does your child have a unique skill, talent, or interest? Let them chase their dream!
Let them meet fascinating people! "Socialization" happens best in real-life encounters!
When children have time to explore the world and make it theirs, the things they learn have meaning.
When we use real-life experiences to make learning meaningful, memorable, and fun, the rewards of scholarship are built in!