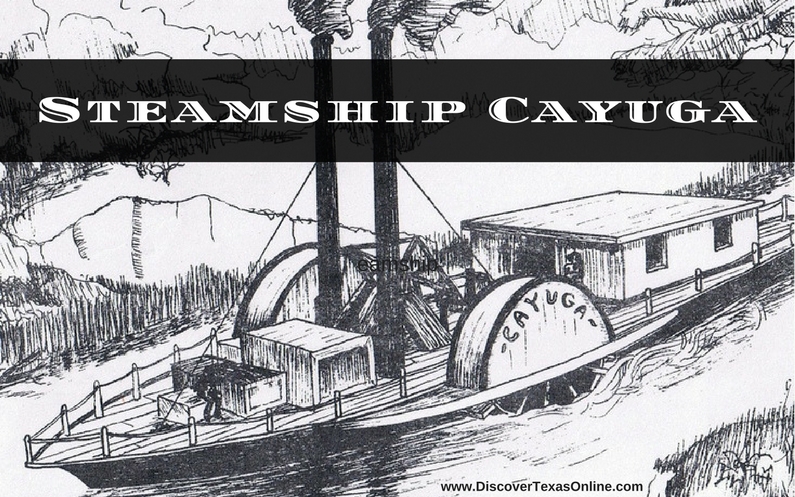 On September 4, 1839, the Steamship Cayuga was sold. After that, there's no record of what happened to it…which is a real shame.
Here's why:
The Cayuga was a small river steamer that played a big role in the Texas Revolution. The boat even served as the temporary floating capitol of Texas from April 15 to April 26, 1836!
The Cayuga was built in Pennsylvania in 1832.  The side-wheeler was small–just under 97′ long and only 17′-4″ wide. She had only one deck with a cabin where her captain, John E. Ross, probably spent his time. (The name Cayuga, by the way, comes from the Cayuga people, a native American tribe of the Iroquois Confederacy.) The Cayuga arrived in Texas in August 1834 and became the first commercially successful steamboat to operate in Texas. The citizens of San Felipe colony even held a ball in honor of the Cayuga's arrival.
When the Texas Revolution broke out in 1836, interim president David G. Burnet pressed the Cayuga into service carrying supplies and provisions to the Texas Army and transporting government officials and citizens fleeing from the Mexican army. On April 15, Captain Harris was commanding the steamer, evacuating the city of Harrisburg as General Santa Anna closed in. On board were President Burnet, his cabinet, and all the people of the town. The Cayuga stopped at Lynch's Ferry, where President Burnet left the ship to get his family…and was very nearly captured in the process! The steamer stopped again briefly at New Washington, then proceeded to Anahuac and Galveston to drop off passengers. The Texas cabinet, though, remained on board where President Burnet rejoined them on April 19. From April 15 until April 26–right through the Battle of San Jacinto and Santa Anna's subsequent surrender–the Cayuga served as the floating capitol of the Texas Republic.
The government of the new republic bought the Cayuga from Captain Harris for $5000 and spend another $300 on repairs. By the end of the year, they authorized the Secretary of the Texas Navy to sell her, and on December 15, 1836 the Cayuga was sold at auction at Lynch's Ferry. The new owners renamed her the Branch T. Archer after Branch Tanner Archer, Texas' Secretary of War.
The last mention of the little steamer was an advertisement for a sheriff's sale in Liberty County on September 4, 1839, to settle the claims of John E. Ross, the Cayuga's former captain, and Robert Adkinson. Among other bits of tackle and furniture was listed "all the right, title, and interest of John Huffman in the steamboat Pioneer, the late Branch T. Archer."
After that, the floating capitol of that birthed the Republic of Texas sailed silently into the mists of history.