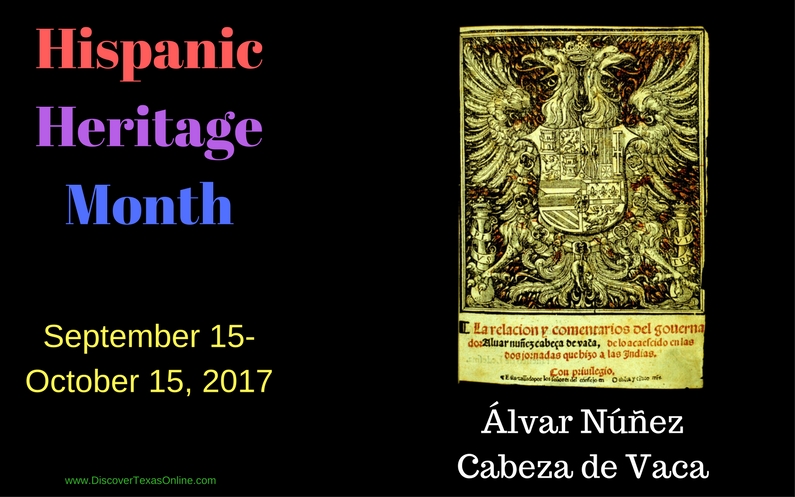 Álvar Núñez Cabeza de Vaca was born about 1490 in Jérez, Spain, the oldest of four children. His father's name was Francisco de Vera. His grandfather, Pedro de Vera, was a conquistadore in the Canary Islands and had a reputation for cruelty. Perhaps Álvar first dreamed of a life in the New World after hearing tales of his grandfather's adventures.
Álvar adopted his mother's unusual surname, Cabeza de Vaca—"Head of a Cow." One of her ancestors, a peasant named Alhaja, helped King Sancho of Navarre gain victory over the Moors in 1212 by marking an unguarded mountain pass with a cow's skull. To thank him, the king created the novel title, Head of a Cow.
Like many young men of property, Cabeza de Vaca began a military career while still in his teens.  Before he was thirty, he had fought in many battles. His reputation won him a royal appointment in 1527 as second in command on the Narváez expedition to conquer Florida and all the lands to the west. He married a short time before sailing for the New World.
On June 17, 1527, the Narváez expedition sailed from the port of San Lúcar de Barrameda. They made short stops in Santo Domingo, Santiago, and Trinidad for men and supplies before sailing north. Pánfilo de Narváez was a cruel man and an inept and cowardly leader. Upon arriving in Florida, he ordered his men to march overland while the ships, containing all their provisions, sailed on ahead. After Narváez' raids made enemies of the Indians, the men desperately defended themselves for months while trying in vain to rendezvous with their vessels. Finally, they were forced to kill their horses for food. They cut trees to build five large rafts in hopes of sailing along the coast until they reached Spanish territory near Panuco, Mexico.
The rafts got separated during a violent storm near Galveston Island. Narváez, who had taken the strongest and healthiest men for his own barge, was in the lead. He refused to risk his own position to help his men. As he sailed off, he shouted to Cabeza de Vaca to do whatever he thought best to save himself. Cabeza de Vaca and eighty other survivors landed on Galveston Island, where Indians aided them. They later learned that some of the others had landed further down the coast. Pánfilo de Narváez died trying to save himself.
For seven years, Cabeza de Vaca and three others wandered through Texas and northern Mexico until, at last, they met with Spanish soldiers near Culiacán who were astonished to find them still alive. The four survivors were Alonso del Castillo Maldonado, Andrés Dorantes, Álvar Núñez Cabeza de Vaca, and Estevénico, an African Moor. After meeting with Melchior Diaz, mayor of Culiacán, and relating their fascinating story, Cabeza de Vaca and his companions were escorted to Mexico City.
Viceroy Mendoza received them with great honor and pageantry in July 1536. He urged them to return with another expedition to search for gold and silver, but Cabeza de Vaca and his men declined. They longed to go home to Spain. After resting for several months in Mexico City, they finally sailed into port at Lisbon, Portugal on August 9, 1537.
You can read today a translation of the report he wrote at the end of his journey.
*This article was drawn from the Discover Texas History curriculum/Volume II-Explorers.*