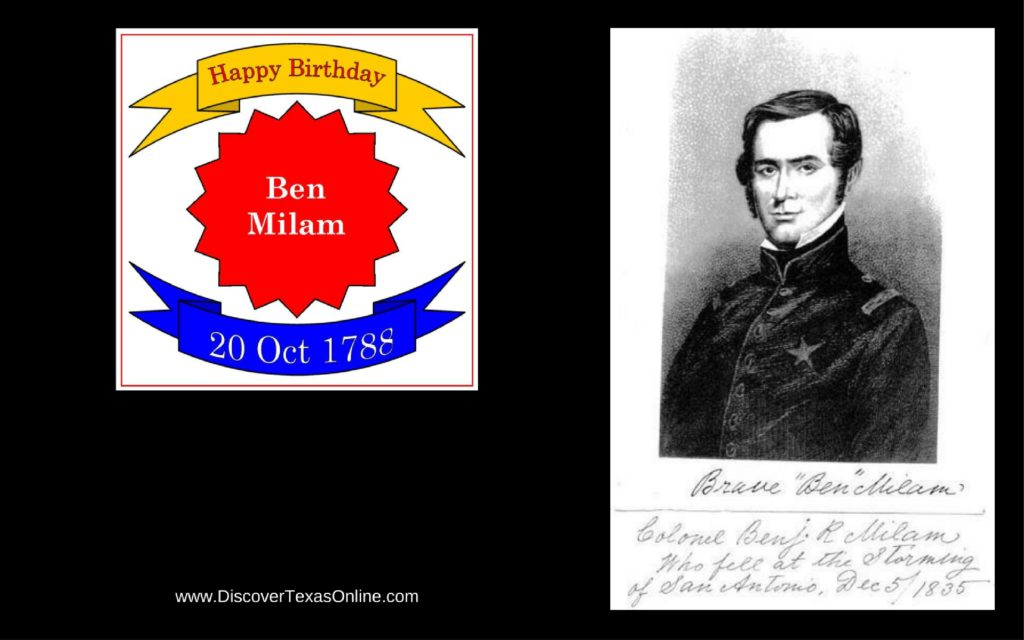 Benjamin Rush Milam–soldier, empressario, and entrepreneur–was born on October 20, 1788 in Frankfort, Kentucky. He was fifth in the line of six children born to Moses and Elizabeth Milam, who seemed able to provide their children few financial advantages. Of course, this was not unusual in that time and place, nor was the fact that he had little if any formal schooling. Families typically lived and worked on their own land and felt content enough with their "daily bread," and it was not uncommon for parents to teach their own children since schools were few and far between on the frontier.
At 24 he enlisted in the Kentucky militia to fight in the War of 1812, then returned home.
In 1818 he met David Burnet while in Texas trading with the Comanche Indians, and the next year in New Orleans he encountered James Long, who was planning a revolutionary expedition to help Mexican Texas gain independence from Spain. Milam joined up and was commissioned as a colonel. Long's revolt was unsuccessful, though. Alliances turned sour, and Milam found himself in prison in Mexico City. It took a visit from an American ambassador to negotiate his release, but five years later Milam was back in Mexico seeking Mexican citizenship, the right to grant lands as an empresario, and the opportunity to strike it rich in a mining venture.
Milam did not make his fortune as a miner nor as an empresario, but he did make a name for himself by leading a party of volunteers to San Antonio where they fought General Martin Perfecto de Cos to break the Siege of Bexar.