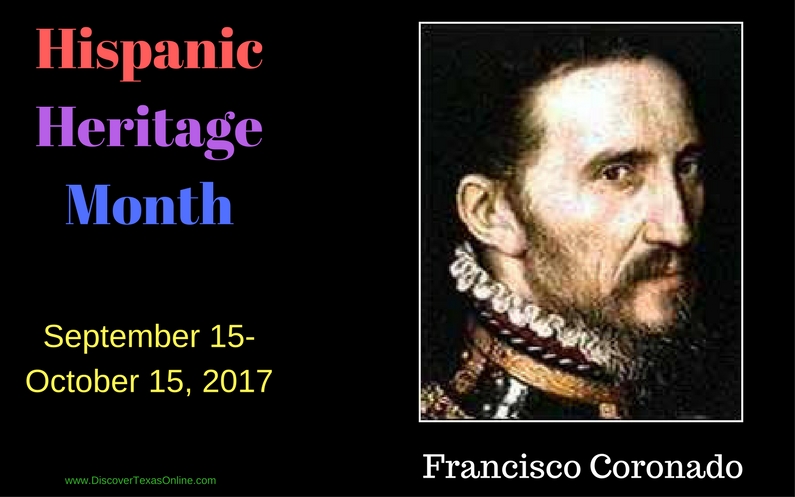 Francisco Coronado explored New Mexico, the Texas plains, and Kansas searching for the fabled cities of gold. The only "gold" he found was the sunlight glinting off the mica windows of the New Mexico pueblos and the cornfields and grass huts of the Wichita Indians. His detailed journal was perhaps his most lasting contribution.
Born in Spain, he came to Mexico with Viceroy Antonio de Mendoza at the age of 25. There he settled down as a family man with a wife and five children. Three years after his arrival in Mexico, he was appointed city councilman in Mexico City and governor of the province of Nueva Galicia far to the northwest. It was to this province that Cabeza de Vaca returned with tales of his travels, including reports of large homes in the "Seven Cities of Cibola."
Viceroy Mendoza appointed Coronado to lead an expedition to search for the Seven Cities of Cibola and conquer them.  On April 22, 1540, Coronado left Culiacán with 1000 men, 1500 horses and mules, and enough livestock to provide food. When he reached Cibola, a cluster of Zuni Indian villages in western New Mexico, he found no gold but heard wondrous stories of gold in Quivira, far away to the east on the Great Plains. (Tales of gold "somewhere else" may have been a convenient way of getting the Spaniards to go "somewhere else"!) With an Indian they called El Turco as guide, Coronado set off for Quivira.
His quest for gold took him on a two-year trek across the Llano Estacado of northern Texas before finally admitting in frustration that Quivira was nothing more than a Wichita Indian settlement.
Coronado's expedition is credited with discovering the Palo Duro Canyon.
*This article was drawn from the Discover Texas History curriculum/Volume II-Explorers.*