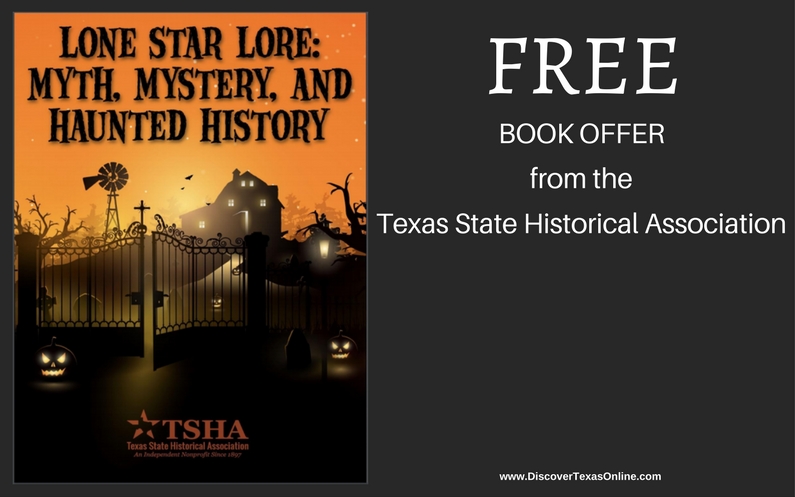 If you've ever discovered Texas history using our Discover Texas History program, you probably noticed a LOT of links to the TSHA website. That's TSHA as in Texas State Historical Association, a VERY important asset when it comes to preserving the history of our great state. For 120 years this organization has done a ton of work archiving research, providing resources, and developing new ways to help folks learn about pretty much anything related to Texas and its history. Over the 18 years I've since I published Discover Texas, I've gained a deep appreciation for all the do…but as you probably guessed, while their services are FREE to us, it costs quite a bit to keep a good thing going. (People gotta eat and keep the computers running, right?)
I hope you won't mind, therefore, if I do a little blatant publicity today for the Texas State Historical Association by way of passing along another FREE service of theirs, just in time for the season. (Our family doesn't "do" Halloween, per se, but I like a good mystery or creepy story as well as the next guy.)
Here's the link to the page on the TSHA website where you can download their FREE ebook, Lone Star Lore: Myth, Mystery, and Haunted History.
They'll ask for your email so they can send your free book, but you don't need to worry about an avalanche of unwanted email. I've been "on their list" for years and always found that they send only a reasonable number of very interesting messages.
May I ask you a favor, though? While you're on their website, please take a minute to click on some tabs and take a look at their other great publications. And maybe go to the main website to get a feel for all these guys do for Texas. Learn about their Texas Talk webinars, student historical societies, special teacher workshops, and Texas History Day. Browse through the Handbook of Texas and Texas Day by Day (my favorite features) and check out their new handbooks focused on African-American and Tejano contributions to Texas history. Then, if you're inclined, please consider donating a little something to their cause? If you can't now, maybe make yourself a reminder to chip in a bit later. Donations start at just $10, and they're tax deductible.
Thank you. I try to use these posts to give away resources I think will be helpful, so I don't often dedicate space to monetizing or asking for donations. This isn't for me, though. It feels more like I'm asking for an old friend…and the book is yours free no matter what you decide. 🙂