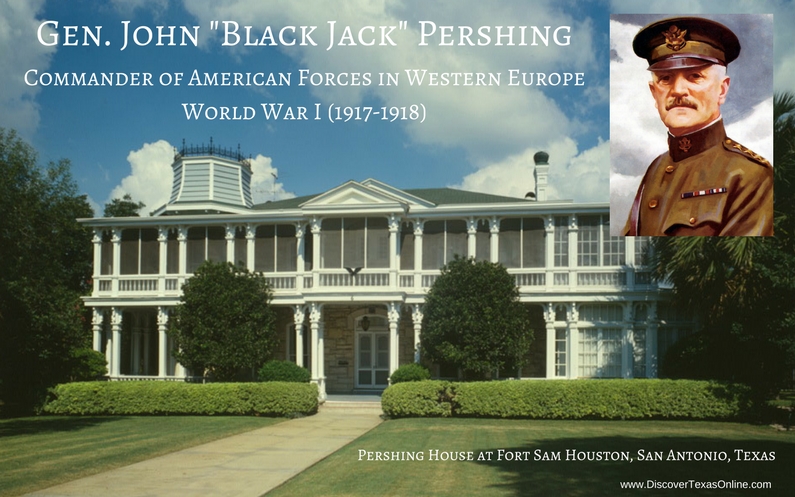 John Joseph Pershing was born September 13, 1860 near Laclede, Missouri–the oldest son of an old and prominent family whose great-great-grandfather, Frederick Pfersching, emigrated to America from the Alsace region in 1749. As a child, John had the advantage of attending a local school reserved for promising students. When he completed his high school studies in 1878, he became a teacher in a school for the children of freed slaves while he pursued his own education, graduating from a Missouri teaching college in 1880.
It was not until 1882 that he applied to the United States Military Academy at West Point, more because of its fine reputation than because of any burning desire to serve in the military. He briefly considered applying to law school before entering military service when he graduated from West Point in 1886, but was sent to defend the New Mexico Territory against Apache attacks and then to South Dakota to suppress an uprising of the Lakota Sioux.
After this Pershing was assigned as Professor of Military Science and Tactics at the University of Nebraska in Lincoln. Back in his element as a teacher, he held that post until 1895 and also completed the law degree he had wanted during that time.
Still only a first lieutenant, Pershing was sent to command a troop of the 10th Cavalry Regiment–African-American "Buffalo Soldiers" who served under white officers. Again, John Pershing was in his element, and it seemed that this course might continue when he returned to West Point in 1897 as an instructor…but the West Point students did not like him. They thought he was too strict–too much a stickler for rules. They called him offensive names because he had served with African-Americans. The coarsest taunts eventually softened a bit, but when his students called him "Black Jack" Pershing, they meant it as an insult. It doesn't seem to have bothered John Pershing, though. He wore the nickname for the rest of his life.
From 1899 to 1903 Pershing fought in the Philippines and rose to the rank of captain. His cool command in battle caught the eye of President Theodore Roosevelt, who petitioned the Army General Staff to promote Pershing to the rank of colonel, but the Army declined. This angered the president. The President could only name and promote Generals. Not to be stopped, Roosevelt secured an appointment for Pershing to become a military attaché to the American embassy in Japan. Then he asked Congress to promote him to the rank of Brigadier General.
Pershing came to Texas in April 1914 to take command of Fort Bliss in El Paso, to fight the Mexican raider Pancho Villa. It was Pershing's idea to use airplanes–new at that time–to find routes through the rough terrain.
In February 1917 General Pershing was reassigned to Fort Sam Houston in San Antonio, Texas just weeks before President Woodrow Wilson committed American troops to fight in "the Great War"–which we now know as World War I. Only two months after he arrived at Fort Sam, General Pershing was on his way to western Europe to take charge of the American Expeditionary Forces. After the war was won, he helped frame the Treaty of Versailles, and in 1919 General John "Black Jack" Pershing received a 4th gold star as he was promoted to General of the Armies of the United States.
---
By David J. Kaminsky – The file for the photo above comes from the Historic American Buildings Survey (HABS), Historic American Engineering Record (HAER) or Historic American Landscapes Survey (HALS). These are programs of the National Park Service established for the purpose of documenting historic places. Records consist of measured drawings, archival photographs, and written reports. This tag does not indicate the copyright status of the attached work. A normal copyright tag is still required. See Commons:Licensing for more information. This work is in the public domain in the United States because it is a work prepared by an officer or employee of the United States Government as part of that person's official duties under the terms of Title 17, Chapter 1, Section 105 of the US Code. See Copyright. Note: This only applies to original works of the Federal Government and not to the work of any individual U.S. state, territory, commonwealth, county, municipality, or any other subdivision. This template also does not apply to postage stamp designs published by the United States Postal Service since 1978. (See § 313.6(C)(1) of Compendium of U.S. Copyright Office Practices). It also does not apply to certain US coins; see The US Mint Terms of Use. This file has been identified as being free of known restrictions under copyright law, including all related and neighboring rights., Public Domain, https://commons.wikimedia.org/w/index.php?curid=18926518
---